Why Julianne Moore in Safe Is Everyone's Social Distancing Panic Mood Right Now
Todd Hayne's "Safe" is all too prescient.
---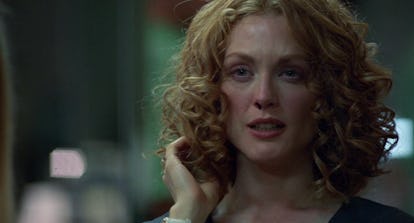 via IMDB
We should get it out of the way that Todd Haynes's Julianne Moore-starring 1995 film Safe is not directly about a pandemic like the suddenly popular films Outbreak and Contagion. Though, its themes of mysterious illnesses, social isolation, and the despair of trying to protect yourself and recover from a misperceived threat are all too relevant at the moment. Since being added to streaming on the Criterion Channel on March 9th (an eerily prescient moment), Safe has become something of the arthouse streaming flick of choice during the times of coronavirus, and perhaps not surprisingly. It was voted the best film of the '90s by the Village Voice Film Poll, and horror legend Wes Craven allegedly hailed it as the scariest movie of 1995—despite Safe not being a traditional horror film.
Moore, in her very first proper leading role, plays Carol White, a privileged second wife trapped amidst 1987 Suburban Los Angeles (even outside of the themes, the film is a perfect stylistic time capsule of a certain type of late '80s taste in clothing and interior decorating; the teal sofa really does go so much better with the room than the black). She spends her time going to aerobics classes, overseeing the redecoration of the family mansion, and micromanaging her house keeper; though her life seems to lack any real passion or connection. Even her relationship with her best friend seems distant. Her reaction to a friend's brother's death is particularly awkward, but her stilted interactions with her husband and stepson are even more excruciating. It would not be odd to call the character socially isolated even outside of the context of COVID-19.
Eventually, Carol begins to suffer mysterious ailments. Her breathing halts when she's trapped behind a smog-billowing truck on the road. She has a bad reaction to chemicals required for a perm. Her doctor says there's nothing wrong with her, medically speaking, and sends her to a therapist. The therapist can't crack it either. Her friends and family react distantly, some even gossiping behind her back. Eventually, Carol eyes a flyer at her gym. "Are you allergic to the 20th century?" the bright orange paper asks. This leads her to a support group for "chemically sensitive" people and not too long after, a particularly severe reaction to fumigation chemicals at a retreat called Wrenwood.
She's come to believe that reactions to everyday chemicals are making her ill, and Wrenwood is supposed to be a haven for those with her condition. Led by a charismatic but ultimately greedy self-help guru, played by Succession's Peter Friedman and loosely inspired by former Marianne Williamson mentor Louise Hay, the retreat at first seems like it may lend some relief. Though soon, Carol seems as isolated as ever, even as she's surrounded by people allegedly going through the same thing.
The film ends abruptly with a chilling scene of Carol alone. You'll be forced to mutter, "Me, three weeks into social isolation," to snap off the shock.
It's already a go-to reference on Twitter:
Though fans of the film point out that it touches on numerous themes of modern life (there are correlations to AIDS, feminism, predatory self-help mumbo jumbo, and the loneliness of privileged suburban life, for sure), the film resonates especially right now because it asks "What's worse: a mysterious disease or the stress of trying to protect yourself?" For those looking for a film that riffs on things we're all thinking about during the coronavirus outbreak, but doesn't stress you out too much with a direct corollary, this may be it.
Besides, there are plenty of reasons to watch the film otherwise. This is the movie that put Moore on her path to becoming one of America's greatest actresses. Haynes, too, would continue his streak as one of the country's best indie filmmaker with hits like Far From Heaven (a Moore reunion) and Carol. It's also worth noting the film is something of a treasure trove of small triumphs by character actors and actresses. In addition, Friedman, Beth Grant (best known for her "commitment to sparkle motion" moment from Donnie Darko) shows up as the leader of a seminar, Jessica Harper, the lead of the original Suspiria, plays a fellow Wrenwood patient, and Kate McGregor-Stewart (most recently she played Cyrus's personal aide on Scandal) is great as a Wrenwood administrator who, at first, seems warm but is ultimately cold as the rest.
While Criterion Channel may not be everyone's de facto streaming service, its specialty faire may be a welcome relief once you've seemingly streamed everything on Netflix. There's never been a better to time to at least try their 14-day trial.
Related: What to Stream When Your Plans Get Canceled
Julianne Moore Is on a Roll