Saint Laurent Muse and Model Lili Sumner Loves Glitter, But Who Can Blame Her?
The New Zealand beauty is spilling her makeup and skincare tips.
---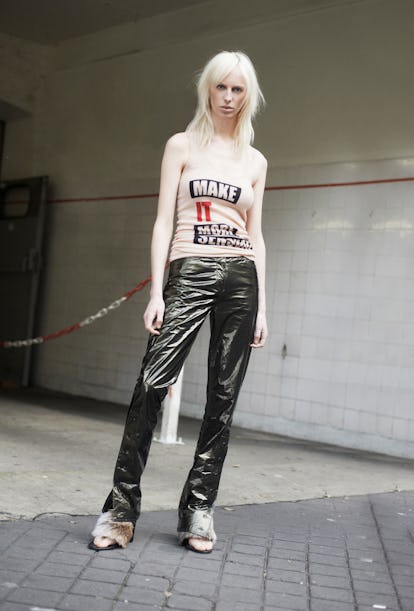 Courtesy of Lili Sumner
Model Lili Sumner may be featured alongside an army of models in W's "Make Love, Not War" October story, but she's certainly not one who blends into a crowd. The 22-year-old bleach blonde beauty has walked the runways of Saint Laurent and Marc Jacobs alike, and in true rock 'n' roll style, leaves a trail of glitter everywhere she goes. Find out her favorite makeup brands, skincare tips and night time inspiration, here.
A good hair day starts with: A tousle between the sheets. I use Bleach Salon's Swamp Spritz for my hair and Jolen Crème Bleach for my eyebrows, which I touch up myself every week or so.
Medicine cabinet snapshot: I use calendula baby oil by Weleda as a make up remover. It takes everything off in a second. I love to draw on big metallic eye make up, stupidly big reaching up to my hairline. Just for fun. I love that. Hence needing the baby oil to get it all off.
Makeup miracles: I stick glitter/whatever to my face with eyelash glue, you can buy loose glitter at craft stores or toy shops. Revlon does a tube of metallic eye make up called Photo Ready Eye Art. It comes in lots of different colors and you can paint on the color with the easy lip gloss-like brush. Sometimes I draw straight on my face with my fountain pen, it doesn't seem to stain or do anything weird to my skin.
Nails must be: I like them natural.
Sheet mask or mud mask: For masks, I honestly just use avocado or yogurt and that really works for replenishing my skin. With the yogurt, I use a plain Greek kind and I add oats to it sometimes for a gentle exfoliation. Sugar and olive oil together as a mask also does the trick. I do use this product from New Zealand by Sans Ceuticals called Bio Active Body Exfoliant. I use it gently on my face and then scrub my body with it, it smells divine.
Bronze or blush: I used to use the Benefit rose-tinted lip and cheek stain, but I found out that they test on animals. I'm trying to move towards ethical products so I switched to the Ere Perez tint called Joy. It's super nice and colored with beetroot. I like a darker, bitten looking color on the lips.
Beauty from the inside out: Eating healthy and fresh food is very important but it can be hard while traveling. I take an arsenal of maca powder, turmeric, chlorophyll drops, probiotics and of course vitamin C.
Exercise obsession: I run with my big headphones on and listen to dirty ecstasy rave music. It gives me that little push and I feel like I'm in the kluuuub.
Drink of choice: Espresso.
Product that you borrow from the boys: I always buy Gillette men's razors if I'm shaving. They really are just better.
Product that you picked up from the pros: I learned from Aaron De Mey how to put glitter on so thick you can wear it for days (kidding, kind of). I flew from LA to New York after the Saint Laurent show with all my make up on and arrived on set in Brooklyn with a trail of green glitter behind me. I think the next make up artist might have wanted to kill me. I don't know if I can tell you the secret! But Aaron did tell me never to use make up wipes, they dry out the skin.
A woman should smell like: Like an angel in a sea of jasmine blossoms or last night's cigarettes and wine.
Appointment you'd love to nab: I'm lucky to have Didier Malige cut my hair. Last time I brought him sunflowers and he made me tea while we chatted and he chopped.
Go-to at-home treatment: I'm home for the night taking a long hot bath with a book in hand and Olaplex No. 3 soaking into my hair. Sometimes I use coconut oil as a treatment but, Olaplex really seems to repair the damage that bleaching does. Another great tip is to always rinse bleached hair with cold water, I find it keeps it much healthier.
After dark dressing routine: For makeup, Divine, from John Waters' films. For clothes, the sharper and wilder the better. I don't have a direct icon or inspiration really, just anything enchanting and odd. The good outfit can make a night, a really good outfit can make you a bit cocky so it can't be too perfect, you know?
Definite doppelgänger: I get Shelly Duvall sometimes and I'm into that.