Saint Laurent Held Its Fashion Show in a Mysterious Desert
There are few places as socially distance as the middle of the desert, after all.
---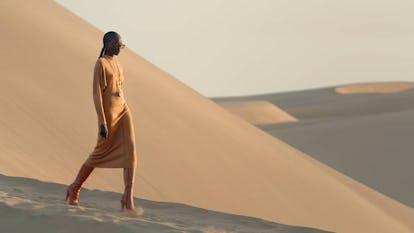 Courtesy of Saint Laurent
The teaser for Saint Laurent's summer 2021 show was an image of the house's giant logo etched into sand. But the setting wasn't any old beach: The video that premiered on Tuesday morning was set amid sloping sand dunes that stretched as far as the eye could see. Models walked single-file, maintaining their distance—and even more notably, maintaining their balance. Some, like creative director Anthony Vaccarello's perennial muse, Anja Rubik, wore heels.
It was Vaccarello's second show this year to take place in a sandy setting. The first, which happened pre-pandemic, was meant to evoke the deserts of North Africa. This time, Vaccarello has maintained an air of mystery about the location, but he did speak to its significance: "The desert, to me, symbolizes that yearn for serenity, open space, a slower rhythm," he said in a press release. "The clothes are also softer, the spirit of the collection is more gentle, stripped back."
But there was one marked difference between the two shows. For his latest, Vaccarello ventured into uncharted territory: the sphere of comfort. Since, as he told Vogue, "I've never really done comfortable before," he took inspiration from the YSL archives, honing in on the use of jersey in 1968. Of course, there were still black minidresses, and the "comfortable" looks still had a sophisticated air. That was even true for the pantsless models, several of whom topped off lacy underwear with a belt.
The most notable throwback, though, was the jewelry by Claude Lalanne, a French sculptor who died last year at 93. Lalanne, who ran in the same circle as Dada and Surrealist artists like Marcel Duchamp, had a history with the house; she collaborated with Yves Saint Laurent himself on a 1969 couture collection, which included two gold body casts of the supermodel Veruschka. Vaccarello revived the artist's gold bust, with an unmistakably contemporary twist: He paired it with bike shorts.
Related: Kristen Stewart Was the Only Guest at Chanel's Métiers d'Art Show