Spirited Away
Two young entrepreneurs are on a mission to turn Americans into sake lovers.
---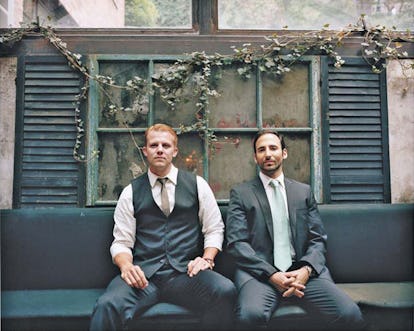 In a memorable sequence from Quentin Tarantino's Kill Bill, the title character drops off "the bride," played by Uma Thurman, at the compound of martial-arts master Pai Mei. Before bidding her adieu, he warns that it will take a year or two for the guru to warm up to an American girl like her—and indeed, Thurman is next shown submitting to bouts of absurdly hard labor before winning Pai's respect. In the process of founding Ty Ku, their high-end sake company, Kirk Spahn and Trenton Ulicny were often reminded of that scene. It took the duo five years to produce their first bottle. "In America you open your checkbook and you gain access," says Spahn, 33, who grew up in Manhattan. "It's not like that with Japanese guys whose breweries date back to the 1400s."
"For years we averaged more than a dozen trips a year," says the California-bred Ulicny, 32, of his endless visits to the best Japanese rice farms and factories. "We were two guys from the States with a translator, trying to prove to an eighth-generation brewmaster that we understood and believed in what they were doing. In Japanese culture they want to get to know you before talking business, so it was years of cordial breakfasts and lunches and dinners. We made it clear: We're going to be here every single month until you realize that we're serious."
Spahn and Ulicny met as international business students at Columbia University in 2003 and quickly discovered a shared affinity for Asian culture. Spahn, who had studied martial arts with Olympic medalist Radomir Kovaˇcevi´c and taken Japanese lessons, and Ulicny, an admirer of Asian art and design, spent many sake-fueled nights out on the town together. The perception among their otherwise sophisticated friends that all sake was downmarket and best served hot frustrated them endlessly. "You want to ask, 'Well, do you drink wine in a box,'" says Spahn, "'or do you drink Château Lafite?'"
Realizing that Americans needed a recognizable top-shelf brand, Ulicny and Spahn developed two sakes, which debuted last year. Both, they say, pair beautifully with non-Asian dishes. Restaurants are catching on—Bryant Park Grill and the Four Seasons are among Ty Ku's accounts, in addition to such hot spots as Morimoto, Tao and Chicago's Sunda. Most gratifying of all: Ty Ku sake is also a big hit in Japan.
This summer Spahn and Ulicny are rolling out their latest product: soju, a rice-based distilled spirit that is similar to vodka—but, they happily report, smoother and half the calories. Soju is one of the most widely consumed spirits in the world, and yet few Americans know what it is. The two Japanophiles are determined to change that. Thankfully, their relationships with their Japanese producers are stronger than ever. "My last trip was the first time one of our brewers let me carry a box of rice from one room to another," says Ulicny. "I have a picture of it. It felt like I'd just won the Masters or something."