Saks Fifth Avenue Wants to Compete with Barneys — By Planting Its Flag Even Farther Downtown
It has one thing Barneys doesn't have: A Vetements art installation-slash-retail space.
---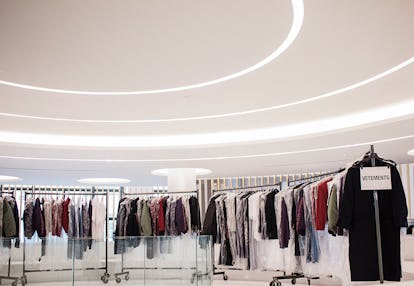 Romer Pedron for Saks Fifth Avenue
Has anyone ever considered the Financial District a hot shopping destination? Probably not — but Saks Fifth Avenue hopes to change that. The store first opened its doors to its Fifth Avenue clientele in 1924. Now, 92 years later and after a choppy retail environment across the board, the department store aims to reposition itself as a legitimate competitor to Barneys New York, which also opened a new downtown outpost this year — by moving even farther south. Saks Downtown, as it's been pegged, opened up shop at the FiDi's Brookfield Place last Friday with a ribbon-cutting ceremony attended by a few bold-faced names, like Julianne Moore.
You'll arrive at this edgier, more downtown Saks by entering Brookfield Place through its revolving glass doors, taking a left at Hermès, schlepping down the hallway past Rite Aid (Brookfield is something of a mixed bag) — and you'll smell it before you see it: perfume wafting out of the cosmetics section . (If you enter from the other side of Brookfield, from the street, you'll be funneled straight onto the designer floor, where Vetements bombers flank the entryway.) Though its new address places it at 225 Liberty, it still can't quite shake that "Fifth Avenue" splashed in florid cursive across its logo both inside and outside of Brookfield.
Inside the New Saks Downtown
Demna Gvasalia and Lotta Volkova's Vetements installation in Saks Downtown.

Romer Pedron for Saks Fifth Avenue
Saks Downtown's contemporary section on the second floor

Romer Pedron for Saks Fifth Avenue
Saks Downtown's shoe space on the second floor.

Romer Pedron for Saks Fifth Avenue
Saks Downtown's cosmetics counters, located on the first floor.

Romer Pedron for Saks Fifth Avenue
Vetements in Saks Downtown, one of the few retailers of Demna Gvasalia's label in New York.

Romer Pedron for Saks Fifth Avenue
A private shopping room at Saks Downtown.

Romer Pedron for Saks Fifth Avenue
As you browse the ready-to-wear collection on the first floor — organized in a loop around the escalator at the center of the store — a shop clerk might approach, eager to explain the latest deal on offer. The store was sparsely populated on a recent Friday afternoon, occupied largely by tourists (identifiable by their sneakers) and a few businesspeople on break from the nearby One World Trade just across the street. On the second floor, an art installation — so cleverly disguised as a retail space that you might not even recognize it as such — commands the center of the room. Conceptualized by Vetements' Demna Gvasalia and stylist Lotta Volkova and inspired by a stock room, it's a round garment rack on which hangs the latest Vetements collection, wrapped in plastic. As shop clerks pull pieces down for customers, the hangers remain on the rack. It's a kind of meta-commentary on consumerism — as you might expect from a brand whose name literally translates to "clothing" in English.
As for what sets this Saks apart from the uptown flagship and its other outposts located outside the city: "Curated" was the word that was tossed around both at an early preview of the shop and by chief merchant Tracy Margolies. It's a considered, edited take, at least, that attempts to account for the way a customer really shops. Ready-to-wear is organized by designer, placing handbags, garments, and fine jewelry side-by-side (in case you've really been coveting that head-to-toe Saint Laurent look). An extensive selection of shoes, long a hallmark of the Saks store, takes up a large gallery on the second floor. And chairs scattered around the space, as well as private rooms on an upper floor, offer a bit of a reprieve. Shopping can be exhausting.
The Mix The new Saks outpost features a range of more than 200 labels, including Proenza Schouler, Marc Jacobs, Dries Van Noten, Balenciaga, and Stella McCartney. For the shop's opening, Opening Ceremony, Rag & Bone, Jonathan Simkhai, and Public School designed exclusive capsules.
Design A two-floor sprawl including shoes, lingerie, ready-to-wear, contemporary, accessories, jewelry, and cosmetics, as well as private shopping rooms and procedure rooms.
Pièce de résistance The Vetements installation on the second floor gallery — "visual arena," as chief merchant Tracy Margolies described it — known as The Stadium.
Prices On the low end, cosmetics like Nars eye pencils go for $24, while some ready-to-wear pieces go for north of $10,000.
Location 225 Liberty Street, inside the Financial District mall Brookfield Place.
For those who prefer to shop from home The full Saks range is available at saks.com.