Salehe Bembury Is the Footwear Designer Behind Most of Your Favorite Sneakers
You may not know his name, but you know the designer's work for Yeezy, Pyer Moss, Cole Haan, and Greats. Here, he makes the case that shoes are sculptures, too.
---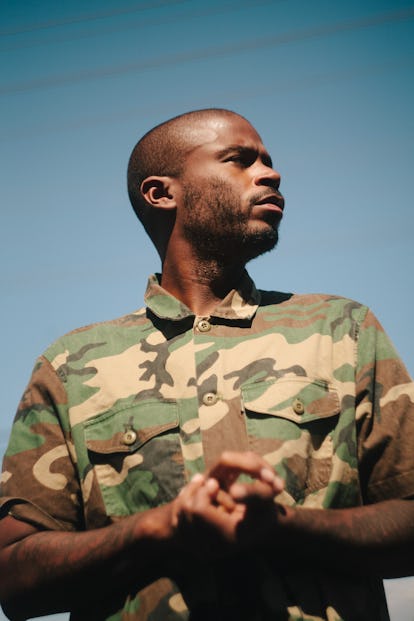 Photo by Roman Koval.
There are collectors, and then there are sneaker collectors. They possess the same encyclopedic obsession, grandiose reverence, and fiendish energy as art, stamp, car, and antique collectors, but they're also a breed of their own. For starters, they're usually young men. They watched Michael Jordan growing up; they're not necessarily into fashion or what's trending, but live for the thrill of the chase. And while their shoes express who they are as individuals, they also thrive off of a community of like-minded enthusiasts we now call "Sneakerheads."
I knew that the 30-year-old footwear designer Salehe Bembury was one such sneakerhead when I asked him to recall the greatest lengths he'd gone to get his hands on a pair of shoes. "It wasn't that long of a line," he responded nonchalantly. "It was just overnight."
He continued: "I actually saw a kid get stabbed in that line, which was pretty crazy. We had camped outside the Supreme store in Soho, and in the morning this guy came and cut the line. Then someone in line literally cut him."
Bembury grew up in Tribeca back when he says it was an "artist's neighborhood." ("Now," he says, "it's like the Upper East Side.") He watched the NBA religiously with his father, and said that when he laced up his Nike Jordans, he would feel like one of the players.
"There was an emotion that came with those objects," said Bembury from his home in Los Angeles last week. "I would later come to understand that this is what design is."
Bembury sketched shoes after school, traded shoes, and yes, even camped out for shoes. He then went on to major in industrial design at Syracuse University and after graduation got a design job at Payless. "At the time, [Payless] wasn't something to write home about," he said. "But looking back, Payless designs every kind of shoe, so from an education standpoint, it was a great place to get my feet wet." Pun not intended.
After Payless, Bembury got his big break at Cole Haan, where he was hired in 2011 to be a part of the "Innovation" team. It was there that he had a hand in creating The LunarGrand, which was arguably a major turning point in the history of men's footwear, whether you'd wear it or not. The LunarGrand takes the traditional men's dress shoe and adds a colorful, comfortable, and modern sole — making the statement that there is no standard anymore when it comes to what men can and can't wear to work.
"Traditionally, you saw your dad going to work in this brown shoe that looked stiff and hard and heavy," said Bembury. "But there's a new generation entering the workforce, and with them comes new rules. They way our generation dresses in professional settings is damn near casual, which is nice to see. It's a world of function over fashion, for the most part."
After almost three years at Cole Haan, Bembury then got in on the ground floor at Greats, a small start-up that aims to be equal parts function and fashion, and that has become the favorite of menswear icons like Nick Wooster.
And then, Yeezy came knockin'.
"I was reached out to by Yeezy in 2015 and they asked that I send over my portfolio," recalled Bembury. After a few months of back-and-forth with the team, they eventually hired him as a men's footwear designer and he moved out to California. "I'm a native New Yorker and I really thought I'd never leave," he said. "But this was definitely the kind of opportunity to encourage a change. It was a career milestone."
When Bembury first met Kanye West out in California, he thanked him for the opportunity and West simply replied: "Let's change the world."
Bembury accepted the challenge and was a part of the men's footwear task force for Yeezy Season 3 and Season 4. Of course, he can't say much about the behind-the-scenes process, but he was there to "help realize Kanye's ideas," including military boots made in Italy, which are are supposedly set to drop soon.
It was an extremely busy fashion week for Bembury this season though because not only did he work with Kanye West, he also did collaboration with designer Kerby Jean-Raymond of Pyer Moss, who he first befriended three years ago.
"There really aren't too many men of color in our industry, so I think on a subconscious level that had something to do with the sparking of our friendship," said Bembury. In keeping with the collection's theme of corporate greed, he dipped shoes in flexible silicon to give the appearance that models were weighed down by concrete. "It was a metaphor for the things that bog us down in life or hold us back," he explained. "Whether it be social or financial."
The work Bembury did for Pyer Moss was a perfect example of how footwear can be much more than a material thing that gets us from A to B. And Kanye West himself would most certainly argue the same. Speaking more specifically about sneakers, luxury brands like Buscemi make the case that they're worth just as much as a work of art. And they create more of a bidding war on eBay than at a Sotheby's auction. Plus, the futuristic new self-lacing Nike Mags are proof that soon, our shoes are very literally going to be an extension of ourselves. But more importantly, like a good sculpture, well-designed shoes provoke an emotional reaction that we can't ignore.
When asked why one would ever camp out overnight for a pair, Bembury responded: "People buy drugs for different reasons. Some people buy them because they make money off of it, some buy drugs because of how it makes them feel, others for how it makes them look. I think with sneakers, it's exactly the same thing. There are just some shoes that when you lace them up, you feel like a superhero. There's something really magical about that."