Uptown Girls
Sally Hershberger is teaming up with an old pal, colorist Sharon Dorram, for a new salon.
---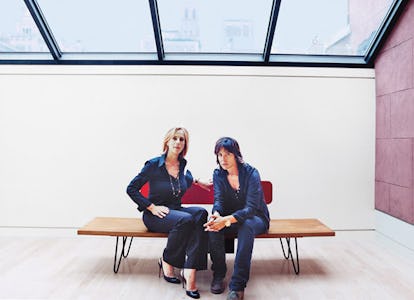 The exterior of 17 East 71st Street looks like something out of Paris's Left Bank: a delicate six-story building built in 1910, French doors behind Juliet balconies and a sloping roof that rests above dormer windows. Inside, the fifth and sixth floors are still raw space on an early autumn day, but the pale wood flooring will soon be stained dark brown, the bare walls will be paneled in wood, and framed Avedons, Newtons and Warhols will hang throughout. Contrary to appearances, this town house duplex is not the abode of another hedge funder—it's the new Sharon Dorram Color at Sally Hershberger Uptown salon, an enterprise that unites New York's resident tough-chick hairdresser with one of its smartest, chicest colorists.
Many will wonder what Hershberger, practically a poster child for life south of 14th Street, is doing uptown. The often iconoclastic hairstylist has been a staple in the Meatpacking District since it still smelled of raw sirloin. For Dorram (who goes by Dorram-Krause except when her name is on an awning), the new space, which will open for business in January, is just a stone's throw from her former workplace, the John Frieda Salon on East 76th Street.
During a brief break between clients, Hershberger is sitting in her back office at her 14th Street location. She's wearing a black T-shirt with the words i did it my way on the back; it's from her clothing line, Shagg (named after the hairstyle that's become her signature). On her feet are gray Converse sneakers, and because she "couldn't be bothered" with her own shag on an unseasonably warm day, her head is wrapped Karate Kid–style in an Alexander McQueen scarf dotted with skulls. It's not exactly the kind of look you see at the Colony Club.
"I'm a downtown person—it's my thing," admits Hershberger, her tired feet propped up on a chair. "But I have so many clients from uptown. And I've been getting phone calls for at least a year from all the salons up there, because, not to be…," she stops to consider the hubris that the rest of her sentence might suggest but, with a shrug, finishes anyway: "I know how to do a cool salon."
It's true. Hershberger cuts everyone from the truly edgy (Sandra Bernhard) to those wanting to incorporate a bit of edge into an otherwise Park Avenue appearance. Her clients span every hot category, from fashion (Donna Karan) and Hollywood (David Duchovny, Renée Zellweger) to sports (Roger Federer) and fellow high-profile beauty-industry types (dermatologist Patricia Wexler). And they're willing to fork over quite a sum for her—Hershberger caused an uproar when, years ago, she became the first stylist to charge $600 for a cut; her current fee is $800.
Long before she did cool salons, an 18-year-old Hershberger was training and then assisting at the Arthur Johns salon in Los Angeles; from there she was hired by the famous Armando, whose tiny eponymous salon tended to everyone from Linda Evans to Olivia Newton-John. When he found himself overbooked, Armando would often pass his celebrity clients to Hershberger—a fortuitous system, because these celebs began requesting her "on set." In 1986 she became the hairstylist for Pee-Wee's Playhouse, which garnered her an Emmy. Soon after, photographers Annie Leibovitz and Herb Ritts began hiring her for photo shoots.
Dorram-Krause started her career around the same time as Hershberger, but in the swanky New York salon world, beginning at the erstwhile David Cohen salon, followed by Frédéric Fekkai, then Peter Coppola. Though the two women had not yet crossed paths, Hershberger knew Dorram-Krause's reputation and left the colorist an auspicious phone message one day in 1994.
"The message said, 'Hi. It's Sally Hershberger,'" recalls Dorram-Krause, an attractive blond whose all-black outfit of Dolce & Gabbana pants, Theory blouse and Derek Lam shoes exude a classic style. "'You need to do Julia Roberts's hair color. Here's the number.' Click. I called the number and yes, it was indeed her."
Hershberger began working in New York about a year after that phone message, making guest appearances at Peter Coppola, where she finally got to meet the colorist she'd recommended to Roberts. Now it was Dorram-Krause's turn to be benevolent.
"I had my Hollywood celebs, but I was just starting out in New York," Hershberger says. "Sharon did Annie [Leibovitz]'s color, and she got me all these clients. Within a week, I was fully booked. She built me in five seconds. She built everybody."
And of course, Hershberger continued to send her own celebrity clients to her new friend. "Before Sally sent me Julia, I had one celebrity: Barbra Streisand, which certainly isn't anything to shake a stick at," remembers Dorram-Krause. "But because of Sally, I got Meg and Nicole, and that spun Brad Pitt and Ed Norton."
When Hershberger left Coppola to join John Frieda in 1997, Dorram-Krause followed. Three years later, Hershberger moved back to L.A. to open Sally Hershberger at John Frieda, and Dorram-Krause stayed behind to run Frieda's 76th Street lair. While most women were trading their "Rachel" cuts for long, layered locks, Hershberger was honing her own signature look, snipping stars like Meg Ryan, whose mopsy shag-bob became a major sensation. By then, Dorram-Krause was practically bicoastal, flying to L.A. to care for the heads of Nicole Kidman and Zellweger, then hopping back to New York to tend to Upper East Side blonds.
In the fall of 2003 Hershberger opened Sally Hershberger Downtown, with no ties to Frieda. When her contract at John Frieda was up in late 2006, the two parted ways, and her name was removed from Frieda's Melrose address. Dorram-Krause, however, stayed on with Frieda until this past summer, when she learned Frieda had lost the lease for his 76th Street location.
"It was pretty sudden," recalls Dorram-Krause. "John told me that he'd make room for me at 68th Street, but someone else was already running that place." (That someone else is Serge Normant, who runs two Serge Normant at John Frieda salons.) Frieda never offered Dorram-Krause the opportunity to share a shingle with him, but she brushes it off philosophically.
"It had become evident that he was using Sally's name with his as a marketing strategy to brand 'Sally Hershberger for John Frieda,'" says Dorram-Krause. When she asked for the same type of deal, "he said it would be confusing," and she says she never pressed the issue. "Looking back, I really don't think I was ready then."
She and Hershberger both think she's ready now, which is why the two share not only the awning, but also the profits (along with a silent investor). Besides, having Dorram-Krause's name alongside hers allows Hershberger to remain on 14th Street as much as she'd like. "I'm only going to work Fridays and Saturdays uptown," she says, adding that those two days are currently salon-free ones for her. "The 14th Street salon is too busy for me on weekends!" she says, laughing at the irony. "Can you believe they don't let me work here? They're like, 'We don't have any chairs. Sorry.'"
Uptown won't be short on chairs, but Dorram-Krause is relieved that she and her partner aren't opening a factory, either. "When I was contemplating going to work at one of the bigger salons, one of my chicest clients said to me, 'I don't want to put makeup on to get my hair done,'" she says, laughing. At just under 2,000 square feet, the uptown space will be intimate, with a relaxed, warm vibe—despite the big-name stylists who will be holding court there. So far, two L.A.-based hairstylists have signed on to work part-time in the new location: David Babaii, who cuts Kate Hudson and Uma Thurman, and Mark Townsend, who cuts Reese Witherspoon and Rachel Weisz; Hershberger stays mum about others, who are still negotiating. What she will talk about are her two other upcoming projects. If all goes as planned, mid-March will see her name on the door of an L.A. location. But first there is the hair-care line. Cheekily named Sally Hershberger Supreme Head, it will land on mass-market shelves in January.
"I hate products that you see in hair," she says. "So mine just do what they're meant to without being seen. But if you don't use anything, hair doesn't have any guts. And hair needs guts."
Given that Hershberger was heavily involved in the John Frieda hair-care line, including the best-selling Sheer Blonde products, her decision to sell Supreme Head at places like Walgreens seems destined to turn her into a household hair name.
"My hands are always in hair, but it's more about what's going on in my mind," says Hershberger. "Ideas come really easily. That's why I couldn't wait to go out on my own. I was champing at the bit."