Sweden Meets France
Sally Perrin and B Akerlund team up on a capsule collection
---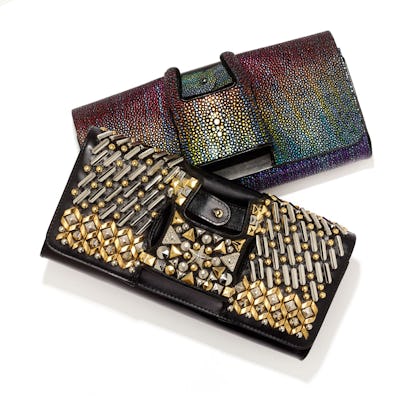 Proof that W parties can be auspicious affairs: Sally Perrin, the creative director of the French luxury leather goods house Perrin Paris 1893, and B Akerlund, the outré Swedish stylist who has worked with Lady Gaga and Madonna, were seated next to each other at a W-hosted dinner in L.A last spring when they hatched the idea for a capsule collection. Launching today, it consists of 12 one-of-a-kind creations, all built around Perrin's be-gloved Capitale Clutch, a nod to the brand's 120-year history as a glove-maker. "It's a smart, sleek bag with an innovative twist," says Akerlund. "My first instinct was to dress it up." To that end, she adorned them with Swarovski crystals, metal studs, and black glitter, and wrapped them in hologram stingray. She also enlisted artisans with whom she has worked over the years—people like fashion designer Erevos Aether, graffiti artist PlekOne, and special makeup effects designer Jerry Constantine—to work their creative magic. The result is a unique lineup of daring designs, sure to strike up a conversation at any party—whether it's a W one or not.
Haute Couture Capital Clutch collection, $1,600 to $6,000, at Perrin Paris 1893 boutiques, Perrinparis.com, and the Editorialist.com
Photos: Sweden Meets France
B Akerlund. Photo by John Scarisbrick.
Clutches. Photo by Gorman Studio.