Here's The Moment Sally Yates Out-Lawyered Ted Cruz
Ted Cruz tried to paint Sally Yates as a hyper partisan and an unreliable witness. She wasn't having it.
---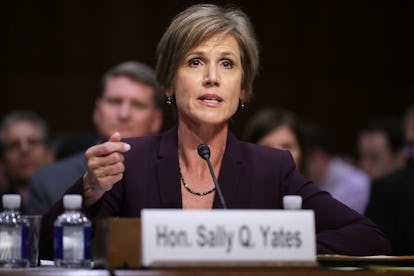 Eric Thayer
Former Acting Attorney General Sally Yates came to testify before a Senate subcommittee today not as a defendant, but rather a witness. The issue at hand was Russia's purported interference in the presidential election and the White House's handling of information that former national security advisor Michael Flynn had not been completely forthcoming about his communications with Russian officials.
Yates testified that she had informed the Trump administration that Flynn could be "essentially blackmailed by the Russians."
What was not on the official docket was that other thing Yates is perhaps better known for. While acting as attorney general until a Trump appointee could be confirmed, the Obama appointee famously decided that the Department of Justice would not defend Donald Trump's controversial travel ban executive order. She was then relieved of duty by the Trump administration, but faces no further disciplinary or legal repercussions.
Yet, Senator Ted Cruz, who just so happens to sit on the House Intelligence Committee, decided to use Yates presence as an excuse to divert discussion to the incident, even though it wasn't directly related to the subject at hand.
Cruz, of course, is a former Solicitor General of the state of Texas and served as an associate deputy Attorney General during the George W. Bush administration. Even his political detractors credit Cruz as an accomplished constitutional lawyer with a reputation as a fierce debater.
Yet, during their back and forth, Yates was more than prepared to go toe-to-toe Cruz, and the political internet exploded when Yates appeared to out-lawyer Cruz.
Here's the key moments in question:
Essentially, Cruz was trying to paint Yates as a hyper partisan, and thus not an unbiased witness by diverting discussion to the immigration ban issue. In an attempt to discredit Yates, he tried playing a game of citing "some arcane statute" to prove it. Yates was not only able to shoot back with her own "arcane statute" but also reminded him about the basic American concept of religious freedom. While she admitted her actions were unprecedented, she also pointed out that the Trump administration's communications (or lack there of) with the Justice Department during the role out of the executive order were also unprecedented, basically shutting Cruz down.
Indeed, courts ended up agreeing with Yates' initial appraisal of the ban as unconstitutional. The Trump administration revoked the original order and replaced it with another, though that one is still caught up in court challenges.
Legalese aside, the internet can't get enough of the exchange.
Related: Hillary Clinton Draws Parallels with The Handmaid's Tale and Cautions Against Complacency At Planned Parenthood's 100th Anniversary Gala
See W's Video of Inspiring Women: