Salone del Mobile's Bright Spots
See all the highlights from Milan's annual furniture fair.
---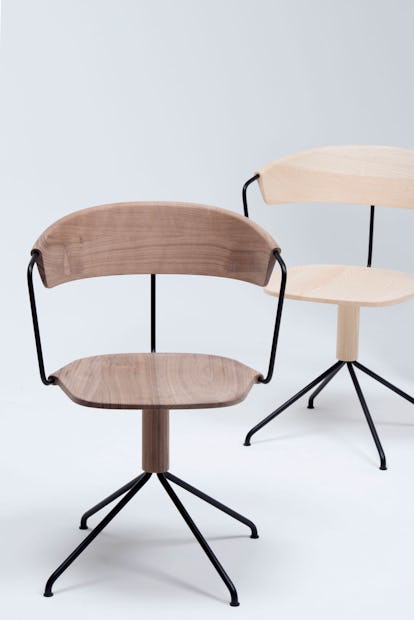 The mood at this year's Salone del Mobile, the annual international furniture fair in Milan, was decidedly more upbeat than in recent years. Both attendance and business were said to be up. And when you looked beyond the usual sea of off-white sectional sofas, there were plenty of bright spots.
Ronan and Erwan Bouroullec's surprising turn to wood and wrought iron produced the graceful Officina tables for Magis; a similar idea characterized their Uncino chairs for Mattiazzi. The Dutch designer Hella Jongerius, who these days is doing less product design and more art direction, is now transforming the Finnish company Artek, where her color-block refresh of Alvar Aalto's 401 armchair made the modernist classic look brand new.
Among the introductions at Vitra was a re-issue of Hans Coray's pioneering 1938 Landi aluminum chair. And the venerable Viennese company Gebruder Thonet displayed bentwood pieces with a contemporary twist, like Front's charming hybrid Coat Rack Bench. Cassina's excellent stand, designed by the innovative Japanese architect Sou Fujimoto, featured towering trees that appeared to float in mirrored boxes, and a soundtrack of birdsong that enhanced the feeling of a walk in the woods.
Kartell showed new tableware collections, most notably Patricia Uquiola's delectable Jellies Family of translucent plastic plates and glasses. A newcomer to the Salone was the British designer Tom Dixon, who had been known for his attention-getting exhibitions outside the fair. Why now? "It's more radical for me to be conventional," he explained, adding, "My job this year is not entertainment, it's commerce."
The companies who showed outside the fair included Denmark's Hay, whose popup shop showcased the Wrong for Hay collection, including Nathalie du Pasquier's colorful, graphic textile prints. Taken from the designer's archive, they're enjoying a revival and tote bags made from the fabrics were all over town.
Among the new offerings from the German designer Ingo Maurer were lights made of flexible transparent sheets studded with rows of tiny LEDs. And at Rossana Orlandi's space, J. Hill's Standard—a new company dedicated to reviving the nearly lost art of Irish crystal cutting—showed two glassware collections, one by Martino Gamper and the other by the Dutch designers Scholten & Baijings, that employ traditional methods with very modern results.
Photos: Salone del Mobile's Bright Spots
"Floating Forest," Sou Fujimoto's installation at Cassina, with Jaime Hayon's Vico sofa in the foreground, and Patrick Norguet's M10 chair beyond.
Alvar Aalto's 401 armchair, recolored by Hella Jonterius for Artek.
Front's Coat Rack Bench for Gebruder Thonet.
Ingo Maurer's Dewdrops table light and Cash+Carry wall light.
Hans Coray's Landi chair, which has been re-issued by Vitra.
Nathalie du Pasquier's Tongues print cushion, for Wrong for Hay.
Particia Urquiola's Jellies Family tableware for Kartell.
Scholten & Baijings for J. Hill. Photo by Tom Brown.
Two examples of Ronan and Erwan Bouroullec's Uncino collection for Mattiazzi.
Tom Dixon's plane table light.