That Salvador Dalí Paternity Saga Has Finally Reached Its Surprise-Twist Conclusion
Tarot reader María Pilar Abel is not his daughter, but at least his mustache is still intact.
---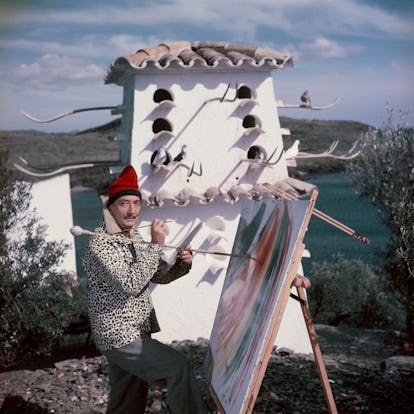 KAMMERMAN/Getty Images
Earlier this summer, a Spanish court approved the exhumation of the late surrealist artist Salvador Dalí as part of an effort to finally settle the claim, now going back a decade, of a fortune teller and tarot card reader hailing from Girona, Spain—Dalí's birthplace—that she is his daughter. Having exhausted other means of confirming or disproving her heredity—which would entitle her to one-quarter of the artist's estate, valued at several hundred million dollars, under Spanish law—it was time to put matters to a DNA test.
Dalí was removed from his self-designed crypt in Catalonia, Spain, in July. Now, the saga has finally come to a conclusion: If the genetic test is to be believed—which it is, because science—María Pilar Abel is not a descendent of the artist. (As fitting as it would be for the late Dalí's only daughter to be a clairvoyant, it was not to be.) According to The Guardian, Abel has said her mother told her she was Dalí's daughter, the result of a secret and short-lived affair in 1955—offering, by way of evidence, a family resemblance so striking "the only thing I'm missing is a mustache." (The mustache is critical.)
Speaking of mustaches, Dalí's is still in good shape: The exhumation did not disturb the artist's whiskers from their final resting place, and the Gala-Salvador Dalí Foundation's secretary general assured Spanish-language news outlet El País the mustache is "preserved in its classic ten-past-ten position" and adding that "checking it was a very exciting moment."
"I was quite moved. You could also see his hair," his embalmer, Narcís Bardalet, said upon the exhumation. He described it as "a miracle," adding that, "Salvador Dalí is forever."
It's quite a twist, considering how doggedly she pursued the claim; she willingly put things to a DNA test 10 years ago, and when that proved inconclusive she pushed for an exhumation despite the resistance of Dalí's estate, filing the suit that led to the exhumation in 2015. Now, in spite of scientific proof, Abel is still unconvinced: As of Wednesday, her legal team has reportedly not received confirmation of the results yet: "Until I've got official word, they can say what they like," she said, according to The Guardian, adding that she will "give a press conference to all the media" at that time.
The Dalí Foundation, for its part, has moved on to such affairs as returning the artist to his crypt and promoting his "work and figure" rather than dealing with petty concerns like heredity.
Irina Shayk cries at a lot of movies, but not Magic Mike: