THE ROOM WHERE IT WILL EVENTUALLY HAPPEN
Salvator Mundi Is Getting Its Own Hamilton-Like Musical
The Broadway recap of the world's most expensive painting's saga will apparently also channel Willy Wonka.
---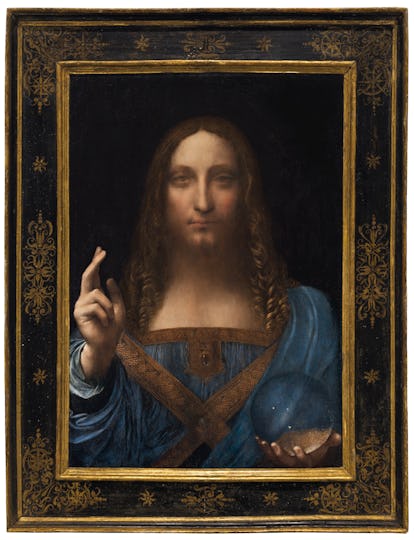 Courtesy of Christie's
In 2017, Salvator Mundi emerged from 500 years in isolation and embarked on an international rollercoaster ride. Since Leonardo da Vinci's long-lost portrait of Jesus sold for a record-breaking $450 million, it's brought out the most vicious streaks in art critics. It's led the art world on a scavenger hunt for its owner—followed almost immediately by a scavenger hunt for the painting itself. It's bailed on the Louvre not once, but twice. It's possibly even vacationed on a yacht.
And while the current whereabouts of Salvator Mundi remain unknown, its saga continues: This week, Caiola Productions announced that it's turning that saga into a blockbuster stage production, enthusiastically titled Salvator Mundi! The Musical.
What might sound like a practical joke is in fact very much the real deal. Caiola Productions has won five Tony Awards, and Manny Azenberg, the musical's consultant, has won nine. Seasoned writer and dramatist Deborah Grace Winer will write the script. And the producer already has big plans: According to Broadway World, it envisions "a combination between the historical reportage of Hamilton with the fantasy and delight of Willy Wonka's golden ticket."
Whether or not they'll deliver on that promise, the crew behind Salvator Mundi! The Musical sure has plenty of material to work with. Cailoa Productions plans to cover the full extent of the painting's 500-year journey from a "shredded, scratched wooden panel painting" to "Leonardo da Vinci masterpiece." Presumably, that will begin with its creation around 1500, and include the painting's stints in the hands of everyone from King Charles I to a Russian fertilizer salesman with connections to Donald Trump. (There could even be a Leonardo DiCaprio cameo.)
Of course, it'll be quite a bit before the crew can get to work. Cailoa plans for production to begin at some point in 2022, with industry readings beginning in the early spring of 2021. Winer might want to wait a bit before finishing up the script; given the painting's track record, the next two years might bring a few more of the saga's twists.
Related: All the Most Vicious, Questioning Takedowns of Leonardo da Vinci's $450-Million Painting Salvator Mundi