Here's One Way to Deal with Problematic Artworks, Like Sam Durant's Scaffold: Burn Them
The Los Angeles-based artist's sculpture at the Walker Art Center in Minneapolis will be destroyed after protests of its reference to an 1862 mass hanging by the local Native American community.
---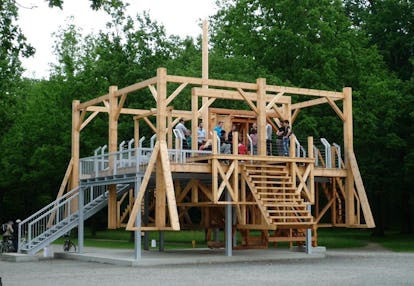 Courtesy of @66benedict
Just as the controversy surrounding the artist Dana Schutz's painting of Emmett Till in his casket at the 2017 Whitney Biennial has finally started to die down, another white artist has created a maelstrom of protests and outcries of cultural appropriation and insensitivity by attempting to turn a racially-charged part of history into an artwork. This time around, the Los Angeles-based artist Sam Durant has caused so much trouble with Scaffold, a wooden, two-story sculpture meant to be installed outside Minneapolis's Walker Art Center, that the opening of the museum's newly renovated garden has been delayed, and the sculpture itself has been destined to be destroyed before ever being unveiled.
Scaffold may look like a strange jungle gym from afar, but its mass of wooden beams actually references the gallows used in seven hangings from 1859 to 2006 sanctioned by the U.S. government. The artwork is meant to address America's history of state violence and its use of the death penalty, including the executions of John Brown and Saddam Hussein. That critique of white power structures and their subjugation of communities of color, not to mention America's enduring institutionalized racism, may have gone over well when Durant first exhibited the sculpture in Europe in 2012, but it was received differently in Minnesota, where one of the gallows Durant referenced was used, at the direction of President Abraham Lincoln, to hang 38 Dakota Native Americans in the town of Mankato in 1862—the largest mass execution in American history. In this context, it's become impossible for Scaffold to retain Durant's intended status of "neither memorial nor monument."
"These were acts of genocide, not something to be portrayed between a giant rooster and a cherry," Cheyenne St. John, the tribal historian for the Lower Sioux community, said of Scaffold's placement in the newly renovated Minneapolis Sculpture Garden (whose own unveiling has since been pushed back a week). Meanwhile, protests quickly broke out both on social media (#notyourstory, #nativelivesmatter) and in-person at the Walker last week, to the point that the museum's executive director, Olga Viso, met with Durant and decided that removing the sculpture would be the best course of action. "It's just wood and metal—nothing compared to the lives and histories of the Dakota people," she said Durant told her.
"I made Scaffold as a learning space for people like me, white people who have not suffered the effects of a white supremacist society and who may not consciously know that it exists," the artist said in his own statement, where he also went on to say that "white artists need to address issues of white supremacy" and that "whites created the concept of race." (Before Scaffold, Durant had installed signs outside Paula Cooper Gallery and inside the Art Basel Miami Beach fair that read "End White Supremacy.")
"My work was created with the idea of creating a zone of discomfort for whites, your protests have now created a zone of discomfort for me," he continued. It's led the artist to see his error in judgment—he admitted he should have realized the sensitivity of the situation and first reached out to the Dakota people, and agreed to Scaffold's destruction by Dakota tribal elders through first its dismantling, and followed by a ceremonial burning.
The latter part of the plan was announced after a three-hour meeting between Viso, Durant, and a Dakota committee. It's not the first meeting of its kind to take place this year: A few months ago, the Whitney Biennial curators, Christopher Y. Lew and Mia Locks, met with one of the protesters who took to physically obstructing Schutz's painting of Emmett Till with his body. Still, unlike Scaffold, Open Casket remains in the biennial, even after the Whitney Museum organized a talk about the controversy led by Claudia Rankine.
Related: The Protests and Reactions to Dana Schutz's Painting of Emmett Till in the 2017 Whitney Biennial
Meet the Chameleons of the Art World, aka the Humans of Frieze New York: