Fifty Shades of Grey
Director Sam Taylor-Johnson gets in bed with Jamie Dornan and Dakota Johnson for the screen adaptation of E.L. James's erotic novel.
---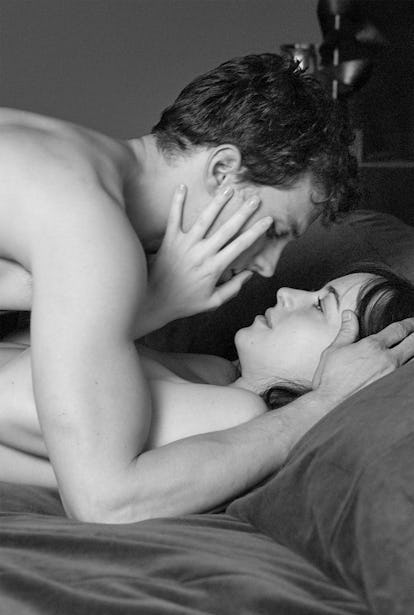 Fifty Shades of Grey, E.L. James's 2011 tale of sex and submission,has sold more than 100 million copies and inspired a cottage industry of extremely graphic erotica. Along the way, it has also sparked a public symposium on what separates the genuinely titillating from just good marketing. So it's interesting that in choosing a director for their hotly anticipated screen adaptation, which maintains the novel's many overheated bondage scenes, the producers turned to Sam Taylor-Johnson. She first made her name (which was then Sam Taylor-Wood) in 1998 as a Turner Prize–nominated artist with a penchant for photographs and videos that seduce with a quiet watchfulness. "I had to be faithful to the book," says Taylor-Johnson, who took the shots on these pages. "There were, if you like, manacles. But there was also room for trespassing."
In the movie, as in the book, Anastasia Steele (Dakota Johnson) meets her Prince Charming in the rich, handsome Christian Grey (Jamie Dornan), whose guarded veneer is both alluring and frustrating. "The whole book, and the movie, is about control," Taylor-Johnson says. "And in a sense, the whole process of making the movie also became about control. This is my first studio film"—she made the 2009 indie Nowhere Boy—"so I quickly wised up to the fact that I couldn't free-form it too much. Coming from a totally autonomous position to answering to a lot of people can be kind of a shock initially."
While she would never consider a potential film franchise shouldering a reported $40 million budget and a frightfully ardent fan base as anything akin to her art, Taylor-Johnson does manage to use her eye for the slow burn, honed in work like her 2004 video portrait of the soccer star David Beckham sleeping, to great erotic effect. After all, what's in front of you is often less stimulating than what you can only imagine. "When you see something, it's all over," Taylor-Johnson says. Not that the film lacks sex scenes. "We do get there eventually." She laughs. "We definitely get there."
Fifty Shades of Grey: Behind the Scenes
"[Here] is is Dakota Johnson, naked on the floor." Photograph by Sam Taylor-Johnson.
"Dakota and Jamie Dornan between takes, relaxing on the sofa in Christian Grey's apartment." Photograph by Sam Taylor-Johnson.
"The Birds! I could not have found a better way to capture Dakota's legacy (her grandmother is Tippi Hedren, the famous Hitchcock actress)." Photograph by Sam Taylor-Johnson.
Dornan on set. Photograph by Sam Taylor-Johnson.
"[This] is the best of my stills. Dakota holds all the power." Photograph by Sam Taylor-Johnson.
"A still from the first lovemaking scene in the movie. There were probably 10 to 15 people in the room. It's an incredibly intimate shot in an unintimate setting. " Photograph by Sam Taylor-Johnson.
"[Here] we're between takes of the breakup scene. It was highly emotional, intense, and beautifully acted by the two leads." Photograph by Sam Taylor-Johnson.
"A shot of the scene where Jamie drips wine from his mouth into Dakota's, then seduces her with an ice cube." Photograph by Sam Taylor-Johnson.
"[Here} is Dakota, whose performance in the final scene in the red room was both incredible and the toughest to shoot. She gave her soul. This was taken moments after. I find it hard to look at." Photograph by Sam Taylor-Johnson.