Samantha Bee on Hosting Duties: "They Figured They Could Pay Me Seventy-Five Cents On the Dollar"
The comedian joined Robert DeNiro, Uma Thurman and Rosamund Pike at IWC Schaffhausen's "For the Love of Cinema" dinner.
---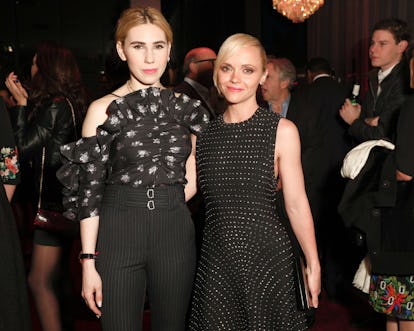 Matteo Prandoni/BFA.com
"It was a huge relief for me to realize that Schaffhausen was the name of a watch company and not one of Steve Bannon's new branches of government," Samantha Bee deadpanned on Thursday night. She was hosting IWC Schaffhausen's "For the Love of Cinema" dinner, an annual event that functions as the unofficial kickoff to the Tribeca Film Festival. Robert DeNiro was there, naturally, as was Uma Thurman, Rosamund Pike, Zosia Mamet, Christina Ricci, Taylor Schilling, and Anthony Mackie, all sitting snuggly in velvet-frosted banquettes installed at Spring Studios. "Joel McHale hosted this last year but they hired me because they figured they could pay me seventy-five cents on the dollar," Bee cracked.
One could assume a pricey watch might also be thrown in. "Is it bad if I say because it has a moon on it?" Bee said earlier in the evening, when asked what drew her to the timepiece she was sporting for the evening.
Pike opted for a simpler look, a thin-faced piece with a clean black croc strap. "I'm not averse to wearing something embellished," she said. "But I just love this as an everyday look. I wear it all the time." Karolina Kurkova went for a bolder look for the party, "I just love this rose gold strap," she giggled. She's amassed quite a collection of timepieces through her relationship with the watchmaker. "I have a bunch that i'm very lucky to own," she demurred.
But the function was not purely a promotional event (with hired brand ambassadors saying how much they love their watches, though, that did happen.) There's also a whopping $50,000 prize, which was presented to budding filmmaker Chloe Zhao for a short she submitted. Pike praised her "immense talent" when presenting her the award as guests ate their roast chicken dinner.
Afterwards, Cynthia Erivo took the stage and within a minute of her rousing rendition of "I'm Every Woman," every woman in the place had gotten up to dance, dragging their dates up with them. "Come on," Kurkova said, coaxing her husband to get up and dance. She and fellow former Angel Adriana Lima began clapping their hands over their heads, their blinged out wrists glinting in the light.
Related: Samantha Bee and Jason Jones, Former 'Daily Show' Correspondents and Real-Life Couple, Discuss Falling in Love