Samantha Bee Will Host a Trump Roast the Same Night as the White House Correspondents' Dinner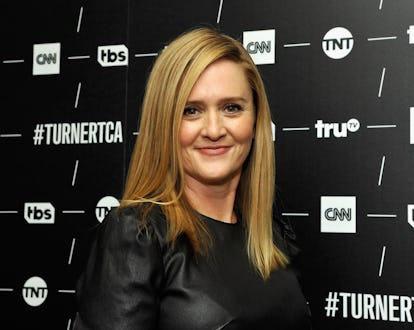 John Sciulli/Getty Images for Turner
Comedian Samantha Bee has never shied away from confronting outrageous political figures and policies, first as a correspondent for The Daily Show and currently as the host of her own show, Full Frontal with Samantha Bee. And now that Donald Trump is in office, her sharp-tongued takedowns of those in power will only intensify. Her latest effort is proof enough of that.
On Monday, Bee announced that she would be giving the annual White House Correspondents' Dinner a run for its money by staging a competing event on the same night, on April 29. The 47-year-old told the New York Times she'll be hosting a roast of Trump, appropriately entitled "Not the White House Correspondents' Dinner," set only a few hundred yards away from 1600 Pennsylvania Ave. at the Willard Hotel. "We're not trying to supersede it," she said in the interview. "We just want to be there in case something happens—or doesn't happen—and ensure that we get to properly roast the president."
The idea for the event apparently struck Bee and producers of her show after Trump's win in November. Given Trump's tenuous relationship with the press, they wondered about the state of the annual gala, which celebrates journalistic excellence and has become known for its good-natured jesting. "We were talking out loud about whether we thought the White House Correspondents' dinner would change during a Trump presidency, or if it would even exist," Bee said. That's when they decided to host their own event to ensure that President Trump, who seems to have little patience for criticism of any nature, would receive the same ribbing just like his predecessors were.
"Not the White House Correspondents' Dinner" will likely be televised on TBS, the same network that hosts Full Frontal, and proceeds generated from the evening will go to support the Committee to Protect Journalists. Other details, including who will be in attendance, are still being worked out. But given the amount of outlets, journalists, and celebrities Trump has personally taken issue with, it's fair to say there will be quite a few folks ready to hurl some jabs at him.
Of course, this all begs the question as to who would actually host the regular White House Correspondents' Dinner, should it go through as planned? Trump seems to have few supporters in the comedy world, but, hey, Kellyanne Conway does have some experience in the area.
Watch W Magazine's most popular videos: