I Went Inside Black Egg's Dizzying Instagram Installation
A "hyper-narcissism chamber" conceived by a man who's worked with Beyoncé and Kanye.
---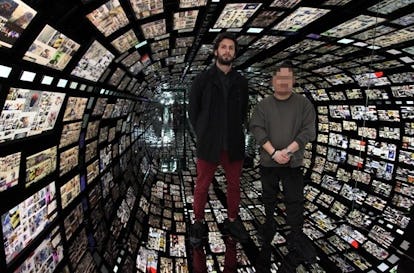 Upon entering Black Egg's "Social Galaxy" installation at Samsung 837, the company's new flagship space in Manhattan's Meatpacking District, visitors find themselves in a floor-to-ceiling mirrored chamber where their own Instagram account is reflected ad infinitum. At first, only hashtags and captions appear as a robotic-sounding voice reads them aloud. Then, your pictures flash onto the screen on by one, creating an overwhelming collage of text and image.
The phrases "Squad," "Prom 4ever," and "Call me rosé," were the first things I saw plastered over my own reflection, making me want to run for the exit. To make matters worse, "fashion week," was read aloud over and over, like a bad stress dream. Then my photographs began populating the chamber, including a favorite "throwback" of my mother, a record of that time I went to a fashion week party at White Castle, and a souvenir from Fetty Wap's private fête. I couldn't look away from my social media reflection.
"The idea is to come face to face with your digital self," said Kenzo Digital, co-founder and creative director of the creative agency Black Egg, minutes before the installation opened to the public on Tuesday. "It's like a hyper-narcissism chamber." This is one of many digitally-focused projects he has worked on, including Beyoncé's "I Was Here" performance at the United Nations, which broke social media records with 2.76 billion media impressions, and Kanye West's "All of the Lights" video art concert series with Heineken.
Despite all these large-scale endeavors, Kenzo's goal is simple: "We're using mega-stimulation to get at something really human. What does your broadcasted self say about who you are?"
For some, Instagram is a space for highly curated content, whether that means selfies or food porn. For others, it's a mindless free-for-all of quotidian life. "There's also an interesting generational divide," Kenzo explained. "For example, I don't post all the time and I post very deliberately, so my Instagram is my very curated self. There's nothing that I'm embarrassed about, but it shows how controlled I am. I've seen other people enter and feel completely exposed, though. If you're of an older generation, maybe that exposure is really embarrassing. But if you're of a younger generation, maybe that exposure is really empowering."
No matter your posting habits, "Social Galaxy" exposes patterns in your Instagram behavior by deconstructing your account and presenting it in a different context. For example, you may notice that you hashtag some words more than others. Or that your ironic captions aren't very funny without the accompanying image. More likely though, you'll realize that you take way too many selfies – one of which I made sure to snap before exiting.