Pacific Heights
High society isn't dead after all. It has a new home in San Francisco's wealthiest enclave. But watch out: There's a lot of drama behind those Golden Gates.
---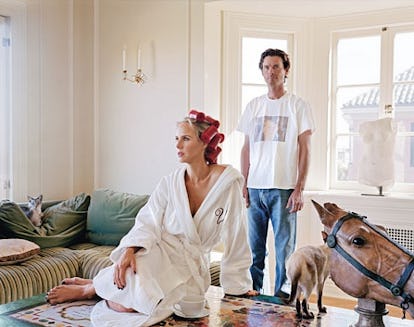 Ann Getty is in the kitchen, rattling the pots and pans. It's Sunday night on San Francisco's outer Broadway—a stretch known locally as the Gold Coast, thanks to such billionaire residents as the Gettys and neighbor Larry Ellison—and while Getty fills 40 small ramekins with soufflé batter, her large kitchen is quickly filling up with guests eager to partake of the town's newest social institution, Super Supper Sunday. The informal weekly get-togethers began more than a year ago, when Jo Schuman Silver, Getty's closest friend—the Gayle to her Oprah—was scheduled for minor foot surgery. Silver has been living at the Getty manse for some three years while Getty, a decorator, refurbishes her apartment, and when Silver was housebound the night before surgery, Getty called in a few intimates for a cozy meal of leftovers in the kitchen, Sunday being the cook's night off. Everyone had such fun that the next week they all did it again, and again the following week, until Getty decided she would put on an apron and whip up a hot meal for her guests.
"Jo's recovery time has been incredibly slow," says Getty, making an almost imperceptibly dry joke of the fact that Silver's surgery is still the official excuse for Super Supper Sunday. "I wonder how long she can milk this." Getty acknowledges that Super Supper Sunday has become such a popular event that now she's "condemned to cook for the rest of my life." So except when she fires up the Jetty, as the family's private 727 is known, and leaves town for Paris (where she shops for her clients) or Hawaii (the Gold Coast's answer to Palm Beach) or New Zealand (where Getty and her wine-loving husband, Gordon, are looking for a vineyard), the woman universally recognized as the queen of San Francisco society dependably cooks every Sunday for whichever 40 or 50 friends happen to claim a seat around the long pine table in the middle of her kitchen.
What's odd is that the hostess, whose more formal gatherings have included such family friends as the King of Spain and the Prince of Wales, hardly bothers with the invitations at all.
"People come from all over," Getty says. "It's quite diverse. I actually don't know everybody." One night, she recalls, neither she nor her husband said hello to one bewildered stranger until a secretary pointed out that he was a Russian conductor and was, unbeknownst to anyone but the staff, installed in a guest room at Gordon's long-forgotten invitation. The man's arrival had gone unnoticed by his hosts in the comings and goings of the more than 30,000-square-foot house, which has, among other amenities, a recording studio for Gordon and a private Montessori nursery school for the Getty grandchildren and other lucky neighborhood tots.
"Anyone could move in here, I swear," jokes Getty, as she thinks back on the conductor's unheralded arrival. "They could just show up and say they were expected!"
Her approach to Super Supper Sundays is nearly as laissez-faire; Getty maintains an open-door policy for her neighbors, and to round things out, she relies on Silver and Stanlee Gatti, an events planner and social arbiter who is equal parts Robert Isabell and Ward McAllister, the 19th-century snob who helped the original Mrs. Astor prune her guest list to 400.
As the rich scent of the cheese soufflés escapes from the oven and Getty hurries about the kitchen, Gatti and Silver serve as official greeters, subtly steering dignitaries to seats near Gordon, who presides at the head of the table. Near him are California Senator Dianne Feinstein, a Sunday regular, and Berkeley professor Alex Pines and his wife, Ditsa, who are among the Gettys' closest friends. When director Philip Kaufman leans in for a chat, Ditsa pulls out her digital camera for a snapshot of the eclectic group.
"Gordon, look who you're bringing together," she calls out over the din. "An artist, a politician and a scientist."
As dinner winds down, the murmur of conversation is interrupted by a sonorous bass voice. It's Gordon, robustly singing an aria from one of the several operas he has composed. The performance elicits applause, and then a young man at the table, the guest of a regular, asks if he might have the honor of singing for his supper as well. Gordon assents and the guest proves to have a trained operatic voice. Gordon looks transported, clinching his eyes tight during a particularly expressive phrase.
"Schumann, Dichterliebe," Gordon announces at the song's end. He responds by singing a heartfelt if somewhat shaky version of "Danny Boy," which the visitor takes over in the final verse to finish in high and haunting falsetto. Gordon loves it: He offers a hearty hand of applause, then drains his final glass and disappears into the bowels of the mansion. It's been an odd and rather extraordinary coda to the evening but par for the course at Super Supper Sunday.
"I remember when I first came here, I thought, Wow, I am so lucky to be a part of this," says Silver, who arrived in the city some 30 years ago and now produces the musical revue Beach Blanket Babylon. "I really never met people quite like the people I met in San Francisco."
She can say that again.
At a time when high society has been declared dead in New York and elsewhere, San Francisco may well be the last place in America where it's alive and kicking, where leaders from the worlds of business, philanthropy, culture and politics still mingle around the tables of the town's most illustrious families. Although the Gettys currently hold the preeminent spot in San Francisco's social hierarchy, they've got plenty of eager competition, and with so many busy socialites—and busybodies—on the loose, the town at times resembles a gossipy gilded village. Still, with the dot-com boom 2.0 now under way in nearby Silicon Valley and the recent Democratic victory turning local congresswoman Nancy Pelosi into one of Washington's most powerful players, the local social leaders are more justified than ever in feeling pleased with themselves.
"What's so interesting is that San Francisco falls into a handful of name cities internationally," says native son Trevor Traina, a 38-year-old social athlete and technology entrepreneur. "But it's a bit of a pretender. If we're going to live up to our reputation, we have to pedal the bike three times faster. We're very conscious of our standing."
Traina and others are quick to point out that San Francisco is also a graceful city with good food and world-class cultural institutions—such as the new de Young Museum, paid for with $208 million raised personally by Traina's mother, Dede Wilsey. It also clings to its small-town cordiality, and indeed, there is a charm to watching Billy and Vanessa Getty, the town's young social champions, take their children to the busy farmers' market at the Ferry Building to eat at the communal tables, where they talk casually with strangers like any anonymous young couple.
But the line that separates coziness from claustrophobia is perilously thin, especially when new gossip passes through the Gold Coast social network as quickly as a cold spreads through a kindergarten class. During the busiest weeks of the recent fall season, society observers were updating the rankings of the local hierarchy almost daily.
No one is more closely watched than the young Gettys and the other leading couple among the thirtysomething set: Trevor and his new wife, Alexis. The foursome have known each other for a long time, and Trevor and Vanessa have often cochaired charity events in recent years. But since the Trainas wed this past summer, social observers perceive a new sharp note of rivalry between Trevor and Vanessa. Though they maintain the appearance of cordiality, many suspect gritted teeth behind the smiles, and the relationship is playing out like a spectator sport. There's even a Web site, SFist.com, that keeps a running tally of each clan's mentions in the San Francisco Chronicle's must-read Swells column.
Billy and Vanessa Getty met on the walk to school—he was 14, she was 12—and today have two rambunctious boys with the czarist names Nicholas and Alexander, the third generation of Gettys to be raised locally since Gordon moved to town as a boy in 1945. Billy, the youngest of Ann and Gordon's four sons (Gordon also has three daughters from an extramarital relationship), is likely to inherit a chunk of the $2.3 billion dynastic fortune, but he is also, as seems to be expected of San Francisco's jeunesse dorée, busy with moneymaking ventures of his own. His first was PlumpJack, a wine shop launched with Gavin Newsom, an inseparable friend who was raised so close to the family that Ann has said she considers him "like a son." A disagreement about business practice, however, created a deep rift, and Gordon stepped into the breach to buy out his son's stake. (Gordon wound up owning the business outright when he later bought the other half after Newsom was elected mayor.) Friends say Vanessa refuses to let bygones be bygones and still barely speaks to Newsom. "She's like a dog with a bone," notes one Getty family friend.
Billy has since moved on to other ventures and is developing golf-course communities in Hawaii. He is his father's son—something of an oddball, forever spouting arcane facts and figures—and like a prince of the city, he delights in local history, especially the strange life of Joshua Norton, a businessman who made a fortune during the Gold Rush and then "went beautifully insane" in 1859, proclaiming himself Emperor of the United States and printing his own money, Emperor Norton notes.
Vanessa, "Nessie" to her husband, brings beauty and ambition to her husband's name and fortune. A clotheshorse who has modeled in ad campaigns for Judith Leiber, Vanessa is San Francisco's quasi-official fashion ambassadress and has thrown well-covered dinner parties for Michael Kors, Stefano Pilati and Narciso Rodriguez.
With her own distinct style, Vanessa declined her future mother-in-law's offer to help with the trousseau before the 1999 wedding. "Ann wanted to take Vanessa to Paris," recalls a girlfriend, who notes the endless gifts Ann Getty lavished on Jacqui Getty when she was engaged to Billy's brother Peter. "But Vanessa wanted to do it with her own mother." Around that time, a personal dispute rubbed feelings raw, and at the wedding shower Ann gave Vanessa her gift—a single silver spoon. (When asked about the incident, Vanessa notes that Ann later sent Tiffany place settings.) With time, Vanessa's boys have given the women a common ground, and the three generations of Gettys were recently together in Hawaii for Thanksgiving. Steady mentoring from social lioness Denise Hale has helped Vanessa learn the comme il faut of being a Getty wife.
This fall she pulled out all the stops for a dinner in honor of Vanity Fair's Graydon Carter at Boulette's Larder, a gourmet temple at the Ferry Building food market. Among the expected group of Getty pals—including district attorney Kamala Harris and heavyweight Democratic fundraiser Susie Tompkins Buell—the star guests were the one couple in town far richer than Vanessa's parents-in-law: Larry and Melanie Ellison. Melanie is a close friend of Vanessa Getty's and sits on the board of her animal charity, San Francisco Bay Humane Friends. (The women are also helping to develop a new Internet site for pet adoption with technical support from Oracle, Ellison's tech behemoth.)
But of vastly greater interest to society handicappers was a couple noticeably absent at the dinner—Trevor and Alexis. While Vanessa and Trevor both insist that the only reason for the absence was that Alexis wasn't feeling well, guests at the dinner whispered that the couple had not been invited. One even likened it to a shoulder block to the competition, saying, "This means war. Vanessa doesn't know what she's started."
A few weeks later it was Trevor who was in charge of the seating chart, when he gave a dinner at home for Diane von Furstenberg, following a charity fashion show he and Vanessa cochaired. Vanessa arrived to find that she wouldn't sit beside fashion dignitary André Leon Talley as she might have wished—that spot was reserved for the new Mrs. Traina—but instead landed between Trevor and former governor Jerry Brown. Friends say she vented her annoyance all over town the next day. "People are still talking about it," said one who heard from her. "Nobody can resist the excitement of watching these two people going at each other."
Trevor dresses like a man who's ready to lead, often in conservative suits that suggest a run for campus president. He is a fifth-generation San Franciscan on his father's side, but his mother's family tree is rooted in the Eastern Establishment and includes Dow Chemical founder Herbert Henry Dow and U.S. President James Buchanan. In a city where even the bluebloods favor blue-state politics, Trevor has attended the Republican summertime enclave at Bohemian Grove. That made his choice of bride, an artsy scion of the Swanson frozen-food empire who now markets wine and caviar under her family name, all the more surprising. Their May engagement was followed in August by a garden wedding for 400 in the tiny Napa town of Oakville.
A far more extravagant in-town wedding ball for 350 was thrown the next month by Trevor's mother, Dede Wilsey. It was held, fittingly enough, in the de Young Museum's central court, named after Wilsey and her late husband, Alfred, and was decorated with 250,000 Ecuadoran roses and an equally impressive bouquet of society leaders. The celebration was in many ways a moment of triumph for Wilsey. Almost exactly a year earlier, the de Young's opening had been a milestone that made Wilsey a citywide celebrity, all the while polishing her crown as arguably Ann Getty's only philanthropic equal in the social set. (The town's other billionaire philanthropists, such as Helen and Charles Schwab, keep far lower profiles.)
An indomitable force, Wilsey lives in a pink and green-decorated mansion "off the grid," as one wag puts it, well away from the Gold Coast. Her social purview tends more toward a low-key Old Guard, in keeping with her background in Eisenhower's Washington, D.C., where her father, former ambassador Wiley T. Buchanan, was chief of protocol. Her first marriage, to shipping executive John Traina, produced Trevor and his younger brother, Todd, while her second marriage, to Wilsey, brought her an additional $300 million or so at his death, in 2002.
It also became the subject of San Francisco's juiciest succès de scandale in years—the vindictive memoir by Wilsey's estranged stepson, Sean Wilsey, Oh, the Glory of It All, which portrayed her as the ultimate stepmonster. (At Christmastime, writes Sean, Todd and Trevor got piles of electronics and, later, expensive cars; he got fruit baskets and sweaters.) San Francisco society closed ranks around Dede publicly but privately could talk of little else during the summer of 2005. "Dede had quite a year last year," says one crafty social observer, noting that a scandal isn't all bad when it results in a full-page profile in the New York Times Styles section. "It wasn't the museum that made her. It was the book that made her."
Many guests at the wedding ball were dumbfounded when Wilsey made a toast that chronicled her personal trials and only at last offered some halfhearted good wishes for her son and his new wife. Trevor followed with a speech that thanked Gatti and his mother, in that order, for making the party happen. (What many in the room didn't realize was that Wilsey had not been invited to a small dinner for Trevor and Alexis the night before, although John Traina had.) Still, whatever the emotional chill in the room, the wedding ball served its ceremonial purpose as an old-fashioned coming-out party befitting social royalty. The newlyweds' honeymoon included a stay in the Imperial suite at the Ritz Paris, visits in Venice with Prince and Princess Michael of Kent, and shopping excursions to appoint their nuptial nest, a $16 million house on the Gold Coast. "Trevor and Alexis are going to rule this city," notes one friend.
That's precisely the kind of hyperbole that moves some critics of San Francisco social life to decry it as "provincial," a favorite barbed arrow shot by none other than Traina's stepmother, Danielle Steel. She declined to participate in this story, and friends say she has rather pointedly withdrawn from the social swim over the years. These days, Steel emerges from her vast white beaux arts mansion into full glare of the society press only for her Star Ball, a biennial fundraiser for the Nick Traina Foundation, created as a legacy to her son who lost his life to manic depression.
Emblematic of the world Steel now shuns is Denise Hale, San Francisco's social survivor nonpareil, who has managed to stay afloat as an elegant swan for decades, if only by not letting anyone see how hard she paddles to keep up. A perennially controversial figure, Hale seems to live by a maxim Elsa Maxwell told her in New York decades ago: "Be ruthless, my child." Her beautiful Russian Hill apartment is furnished with European antiques and fine paintings—including an Odilon Redon that she is leaving to the National Gallery of Art at Paul Mellon's suggestion—but Hale is hardly rich by local standards. "She's important only because she wants to be important," snipes one detractor. Hale is a man's woman—she made three shrewd marriages—but has an equal instinct for female friends and has mentored two generations of women, including Vanessa Getty and, before her, Jo Schuman Silver. ("She gives the best advice," says Silver, whose friendship with Ann Getty would seem to demonstrate the point.)
And Hale's still making friends today. She threw a dinner at the Ritz-Carlton Hotel in October for the likes of John Traina, George Lucas, Nancy Pelosi and Yahoo!'s Terry Semel. But her real coup was welcoming Google cofounder Larry Page and his girlfriend, Lucy Southworth, who have lately said they would like to buy a house in San Francisco. Hale disguises her bold maneuvering with European savoir faire, but to her credit, she can also use her witty sense of humor to make light of it. Her epigrammatic bons mots are swapped around town like playing cards. "You know me, darling," Gatti recalls her saying. "If you have a plane, I say hello. If you have a plane and a boat, I say hello, hello."
In the end, Hale's "in with the new" strategy is probably a winning one. If San Francisco's gilded drawing rooms haven't gone too stuffy, it's only because local society occasionally opens its innermost doors for a breath of fresh air—even on the Gold Coast. Midway between the Gettys and Miriam Haas, doyenne of the Levi Strauss family, live thirtysomething newcomers Robert Mailer Anderson, a novelist, and his wife, Nicola Miner, whose late father cofounded Oracle with Larry Ellison and Ed Oates. Newer still are New York transplants Sloan and Roger Barnett, who arrived last year after he bought Shaklee, a 50-year-old vitamin business. Their house, priced at $36 million, had once belonged to Prentis Cobb Hale, Denise's final husband, but today, thanks to introductions arranged by Trevor Traina, the dining room again rings with laughter.
"Those are two sharp pencils," says an admirer who then, wittingly or not, shakes a hornet's nest by adding, "Sloan seems like she could be the next Dede. She could be the next first lady of San Francisco."
This past fall, on the night before Trevor and Alexis's wedding ball, the Barnetts scored marks when they gave a preball dinner for the newlyweds—an elegant gesture that would, by society's inflexible rules, have to be repaid in time. After the main course, Billy Getty rose to his feet to toast Trevor, "who I've known a lifetime," and Alexis ("half a lifetime") and to declare the match between them, like the main dish of fried chicken and waffles, an unexpected but "appropriate" pairing. (This was in the weeks before the recent tiff between Vanessa and Trevor.)
By chance, the dinner happened on a Sunday night, which meant that at the same moment the young crowd toasted its newest golden couple, the town elders were just down the street in the Getty kitchen for another installment of the Super Supper Sunday. The two generations would mingle at the de Young the following night, but for now each seemed content with its own playing field—with one important exception.
Midway through the Barnetts' meal, an unexpected guest strode into the dining room, wearing a baseball cap and bomber jacket. It was Mayor Newsom, the Gold Coast's self-styled Kennedy on the Bay, who had already dined with the Gettys, but then decided, with a politician's keen instinct for where power lies, to stop in and pay homage to the bride and groom—and the future foretold by them and their crowd.
CLICK HERE to return to the W Classics archive.