Sandra Bullock Donates $1 Million to Hurricane Harvey Relief Efforts
The generous actress is the latest celebrity to join the efforts.
---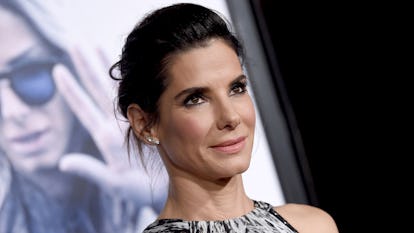 Axelle/Bauer-Griffin/FilmMagic/Getty Images
[Sandra Bullock]https://www.wmagazine.com/topic/sandra-bullock) has pledged a whopping $1 million to support Hurricane Harvey relief efforts via the American Red Cross. The hurricane, which is on track to become one of the worst to ever hit the United States, has now reached a death toll of 30 people and is currently moving from southeast Texas to western Louisiana to bring more damage in its wake, The New York Times reports.
"There are no politics in eight feet of water," Bullock said in a short statement, which was obtained by People. "There are human beings in eight feet of water. I'm just grateful I can do it. We all have to do our part." The vice president of communications for the Red Cross added: "Having someone like Sandra Bullock make this kind of commitment, it helps bring people together and open their hearts and be even more generous."
With her incredibly kind relief contribution, Bullock has become the latest Hollywood figure to donate and encourage others to do the same. Earlier this week, comedian Kevin Hart started a challenge on Twitter that coaxed his famous friends to donate to Harvey victims — he himself gave $50,000 — which, in turn, saw donations pouring in from the likes of the Kardashian family, Nicki Minaj, and DJ Khaled. "My mom, sisters & I accept your challenge. We will be donating $500,000 to @redcross and @salvationarmyus today #HoustonStrong," Kim Kardashian tweeted to Hart, with Minaj adding on Instagram, "I'll donate 25K for Houston. Praying for everyone there. Great work @kevinhart4real."
Other celebrities, including Jennifer Lopez, Alex Rodriguez, and Dwayne Johnson, have also pledged ample donations. "I want to send a message to the people of Houston — you've got to stay strong and you've got to hold on to faith," Johnson said in his video.
If you want to know how to help the victims of Hurricane Harvey, click here.
Related: Joel Osteen, Prayers Are Not Enough for the Victims of Hurricane Harvey
Watch: Celebrities Make an Impassioned PSA on Behalf of Immigrants: