Style Notes: Evelyne Chetrite
Creative Director Evelyne Chetrite, creator of Sandro's feminine-meets-street aesthetic, shares her love of old jeans, her disdain for contrived looks and her latest obsession. (Hint: it has nothing to do with fashion.)
---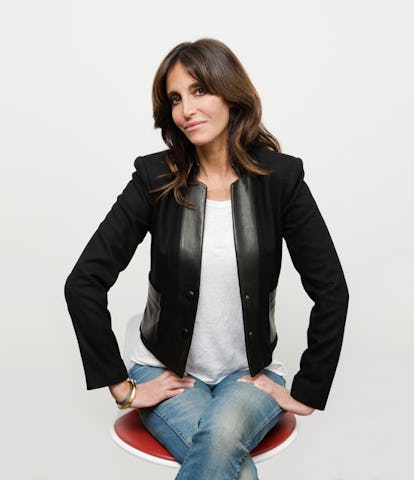 Once the well-kept secret amongst fashion editors who sneak a little shopping in between shows during Paris fashion week, Sandro has taken New York by storm since opening its first US boutique in the West Village just over a year ago. Known for its slim tuxedo jackets, leather-trimmed outerwear and studded high tops which have become a uniform for the cool, fashion set, the French brand has expanded to the Upper East Side and Soho. Here, Creative Director Evelyne Chetrite, creator of Sandro's feminine-meets-street aesthetic, shares her love of old jeans, her disdain for contrived looks and her latest obsession. (Hint: it has nothing to do with fashion.)
Define your style in three words: Chic, cool & offbeat ("décalé") like Obama when he gets off a plane!
Daily uniform: Jeans, flat shoes (reminds me of my college years) paired with a more couture jacket to add a Parisian touch.
Greatest hits: My favorite old jeans and long, glamorous vintage couture dresses.
Preferred footwear: I love high heels can't wear them every day so I wear sneakers and moccasins.
Finishing touches: Currently, I love to wear a scarf and a cool, trendy piece of jewelry.
Nighttime look: I love a very couture, open-back, red jumpsuit.
Best recent discovery: Domotics [home automation]. I recently had a system installed in my Parisian home that centralizes all the controls for light, sound and temperature settings. It's made my place so much cozier and I just love playing with it every day!
Favorite stores: Interior design gallery Kreo on Rue Dauphine in Paris. From there I walk to the beautiful L'ecume des Pages bookstore on the Boulevard Saint Germain before a tea at the Flore—so Paris!
Style pet peeve: Any total look.
Style icons: Men inspire me a lot, as well as movies such as The Thomas Crown Affair and Richard Gere in American Gigolo.
Last purchase: An awesome vase designed by Ettore Sottsass.
Lusting after: A trip to discover a new destination with my very best girlfriends with no constraints at all in order to feel like we're 17 again.
Favorite haunts: In Rabat in Morocco (where I was born), there is a place named Les Ou Dias where I enjoy the mint tea with cornes de gazelle cakes.
Spring must-have: Sandro black python espadrilles.