With Her New Vans Collaboration, Sandy Liang is Poised for Mainstream Success
Sandy Liang reflects on her new Vans collaboration, hosting a fashion show at her high school, and childhood memories of fleece.
---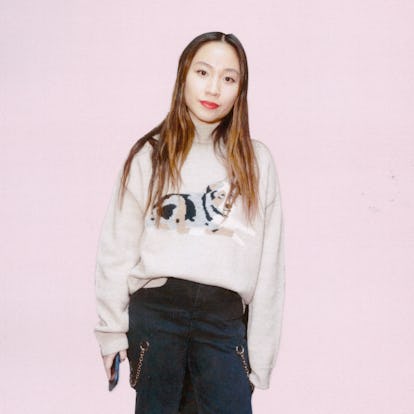 The Vans store in Williamsburg was heaving. It was one of those events where you couldn't move so much as sidle back and forth a bit, with barely enough room for the bijou take-out containers of cold sesame noodles courtesy of Mission Chinese Food that were being passed around, or the boxes of baby pink velvet low-tops and fuzzy, faux snow leopard slip-ons being shuttled from the stockroom to eager buyers. A woman approached a rack of pleasantly deranged, spliced shearling–puffer hybrids from a few different angles before feeling satisfied with her Instagram content. Outside, the crowd was big enough to pique the attention of a passerby, who asked, reasonably shocked, what this was all for. The answer—"Sandy Liang collab"—was met with a look of searching blankness.
This is where the New York designer Sandy Liang finds herself, not uncomfortably, six years after launching her namesake label: beloved by a close-knit downtown set willing to wait on a freezing February sidewalk for her butterfly-studded velour halters and blue python-print bike shorts, but still making her name outside of it. If the Vans collaboration, Liang's first with a mass-market brand, is any hint, that second part won't take long.
Liang, who is 28, is a New York lifer, and her clothes internalize an incorruptible New York sensibility: nervy, unbothered, but flashy where it counts. She grew up in Bayside, Queens, attended Parsons School of Design, and now lives on the Lower East Side. Her commute to work is brief; Liang's business is headquartered in a polished basement warren on Rivington Street. Two massive, lobed porcelain vases greet visitors, remnants from when the space served as storage for Congee Village, a fixture of the neighborhood a few blocks away, of which Liang's father is the proprietor. She showed her fall 2020 collection, a progression of subtle, monochromatic Pilgrim-chic housedresses and Peter Pan collars punctuated with splashy flourishes, like a chocolate-colored leather apron dress and disembodied Sailor Moon–eye prints, in the lobby of Stuyvesant High School—perhaps the first time that a New York designer has recontextualized their high school as a Fashion Week venue. Her former teachers were in attendance. It was, by all measures, a lot of fun.
Designer collaborations are, at this point, a mostly rote exercise in marketing synergy. But the Vans capsule came to Liang honestly—or rather, in an impatient New Yorker sort of way, she came to Vans. "They emailed me and asked if I wanted a pair of their SpongeBob shoes, because I love SpongeBob and it's a widely known thing, and I wrote back, would love a pair. And I would also love to do a collaboration.' I was thinking it would be like, 'We'll talk to our teams and get back to you in two years,' and blah, blah, blah. But we just did it," she said, still sounding amazed. "I saw the whole development team at the event and they were gushing, and I was so happy, because there's still a fourth-grade Asian girl inside of me that just wants everyone to be happy and get good grades."
While she was at Parsons, Liang had internships with Phillip Lim, Jason Wu, Opening Ceremony, and Richard Chai—a royal flush of mid-aughts New York brands. She started her own label immediately upon graduating, again in an impatient New Yorker sort of way, with little more than her senior thesis collection. "I didn't even know what a line sheet was," Liang said. "I didn't know how to price anything. I was just taking the F train five times a day going to the sample maker because I didn't know how to hand off the tech pack. That was really interesting. It was really depressing at times too. I would print out motivational things and keep them all over my apartment, like, 'just keep your head down' and 'do your thing.' "
Sandy Liang is technically a women's wear brand, but the designer's name began bouncing around the downtown consciousness when she debuted her gender-agnostic fleeces in 2017. The pleasingly slouchy, deep-piled funnel-necks arrived on the crest of an urban yen for a transitional outdoor look, when creative directors could be seen clomping around SoHo in Blundstone boots and crunchy Patagonia Synchillas, as if they were climbing to an elevation higher than 14th Street. Liang's genius was to reorient the look away from earnest trail trekking toward a street level rudeness. She finished her pieces with neon lime piping and grafted on leopard-print pockets—a fleece better suited to hiking to Blue Ribbon than through the Blue Ridge Mountains. Men became curious. GQ editors openly lusted after them. Other brands began churning out poor imitations. Fleece jackets now make up a steady piece of Liang's business.
Like most everything that Liang designs, the fleeces have a deeply personal through line, specifically, how much she hated them growing up, and how her parents' outer-borough immigrant ethic didn't make room for fashion. "I was thinking back to when I was a kid and hated wearing puffers and my brother's hand-me-down Nautica fleeces," Liang said. "My mom was really against buying new clothes. If we wanted new clothes, it was TJ Maxx or Old Navy, but the sale rack. You were meant to care about school, but it was really bad if you cared about how you looked." Liang's fleeces are less a corrective to her childhood than a totem, an affecting reminder of how we push against the particular eccentricities of our parents, and how, even when we swear up and down they won't, they continue to shape us in profound ways.
Liang's clothing is rooted in a feeling for the '90s but not swallowed by it. She likes things such as sheer pink organza and ruched gingham babydoll tops and hearts and butterflies, sweetness that could easily tip into cloying, but is pulled back by a tinge of weirdness, like a Lisa Frank Trapper Keeper dipped in ketamine. Liang says her first store, which is set to open on Orchard Street, in lower Manhattan, in May, will resist those design cues, to a point. "We're getting a pink toilet, which I'm really excited about."
In her showroom, Liang thumbs a sleeveless sack dress in blush satin and pocked with dangling Swarovski crystals and nipple rings, a look that opened the Stuyvesant show, and recalls a youthful fascination with cheap play jewelry (she referenced this idea more directly with a series of necklaces and rings, a Polly Pocket riff on cubic zirconia set in pink resin hearts). "It's stuff like this I feel like I haven't been able to do in a really long time because I was worried about production or whatever," she says. "It's not like working with brands where I design something and then it's someone else's problem. It's always my problem."
Outwardly, Liang is even-keeled, but she cops to a nervous disposition. A few years ago, she took over her company's finances and swiftly developed shingles. "It was a weird time," she says. "I'm letting myself not get distracted by all the things that were superstressful two years ago, like working with people, you know, and money. I finally feel like I'm able to sit at my desk and sketch all day, and I don't have to worry about 10 different things. Although I'm sure I still do. But I'm just starting to trust myself a little bit more."