Sandy Liang Calls Out Forever 21 for Plagiarism: "Are You Proud to Rip Off Young Designers?"
Sandy Liang is the latest independent designer to accuse Forever 21 of plagiarism after noticing the chain is selling two jackets nearly identical to hers.
---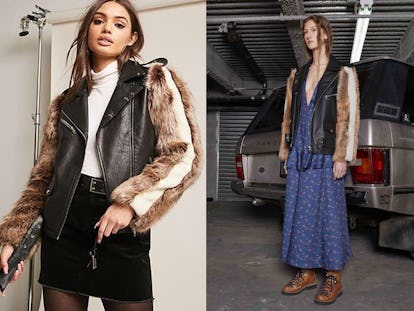 Courtesy of Forever 21, Sandy Liang
Forever 21 has been accused of plagiarism yet again by an independent designer. This time it's Sandy Liang, the New York-based fashion designer beloved by Rihanna and the street style set for her iconic furry outerwear pieces, who is calling out the fast-fashion chain. Liang posted the uncomfortable similarities between two pieces of hers from her Fall/Winter 2015 and Fall/Winter 2016 collections and Forever 21's recent outerwear on Instagram.
"@Forever21 are you proud to rip off young designers?" she wrote in the caption of her Instagram stories, where she detailed, look-by-look, photos of her jackets and the ones in question by Forever 21 vendor Shaci the Label. "It's not bad enough that you didn't even bother to change my design even a tiny bit, but you've made me sad about what I do. My team and I work so hard to make these beautiful pieces and you rip them off so shamelessly."
Indeed, the similarities between Liang's fur-trimmed green and black jackets and their Forever 21 counterparts is undeniable, down to the tie at the neck and pockets of the green jackets and the striped sleeves and belts of the black jackets.
Sandy Liang:
Forever 21:
Sandy Liang:
Forever 21:
In a statement sent to W, Liang says, "FOREVER21 needs to respect young brands, not take from them. There is no room in the industry for this kind of blatant disrespect and copying of ideas. As someone who operates with a small team and works to evolve a business i am saddened to see such a large company take advantage of small brands – especially in the environment wherein they are undoubtedly going to get caught."
It's true that it's never been easier for designers to identify ripoffs and take to social media to call them out in the digital age. This past year has brought forth plagiarism claims against Forever 21 by luxury athletic brand Alala, who accused the chain of ripping off a handful of their pieces, and, even, Kanye West's Pablo merch. As Liang wrote on Instagram Stories, "Forever 21 shame on you!!!!!!"
We have reached out to Forever 21 for comment and will update this story.