Sandy Liang Is Inspired by Skater Culture, Grandpa Pants
The emerging fashion designer shares her style notes and behind-the-scenes photos.
---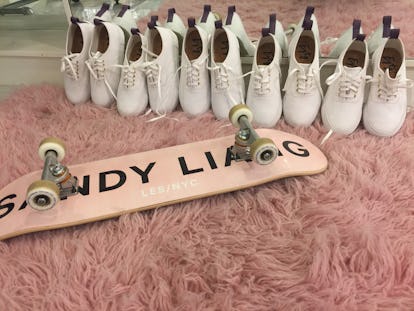 Fashion designer Sandy Liang is a designer to watch, on the runway and on social media. Before her Spring 2016 show, she answered our pressing questions.
What are some of the inspirations for your Spring 2016 collection? They are more or less the same inspirations carried throughout the seasons, including my neighborhood (Lower East Side) and just finding moments of beauty in things that are not conventionally pretty or exciting. Specifically for Spring 2016 I looked at skater culture and this one grandpa that I always see walking around the area who wears these amazing pants.
Your Instagram muses: @real_kate_foley, @soojmooj, @azizaxoxo, @dotwillow, @inagarten, @mrjeremyclarkson, @gogoluxe, @ideabooksltd, and @oliviakim
Fall uniform: Skinny black jeans, dad's old t-shirt, no bra, the Ines coat from my Fall 2015 collection, and black Timberland boots or Chanel Chelsea boots.
Favorite footwear: Manolo Blahnik Carolynes, vintage toe-cap Chanels, Birkenstocks, my satin Chanel sandals with the cutest grosgrain bows, satin pink pointy Prada pumps, Miu Miu slides with ostrich pom poms and jewel encrusted heels!
Finishing touches: Gaiac 10 or Santal 33 from Le Labo, no nail polish, mascara, and messy hair.
Nighttime look: My daytime look, plus lipstick.
Best recent discovery: I got a bike from Tokyobike recently. Nothing sweeter than cruising down 1st avenue on a summer evening while listening to music (only in one ear).
Favorite stores: I do the majority of my shopping on eBay or random stores. I love buying books from McNally Jackson. I probably spend the bulk of my money on coffee and restaurants!
Style pet peeve: Uncomfortable footwear and chipped nail polish
Last purchase: Purity by Jonathan Franzen.
Favorite New York haunts: Cafe Mogador, Lovely Day, Roasting Plant, Mr. Fongs, Dimes, Forgtmenot, Whole Foods on Bowery, and Congee Village.
What's always in your bag: My gigantic iPhone 6 plus, a notebook, Goyard cardholder my brother got me for my birthday, and headphones.
Any cool upcoming projects you'd like to share? I'm launching my e-commerce site in December!
Photos: Sandy Liang Is Inspired by Skater Culture, Grandpa Pants