Sanya Kantarovsky's Literary Drive
The young artist tells stories with paint.
---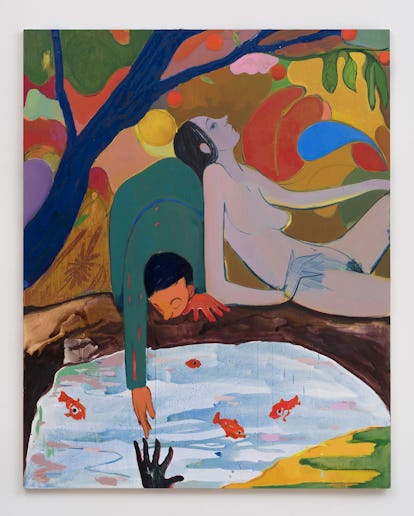 Photo Credit: Robert Wedemeyer
Ever since he roamed Moscow's Pushkin State Museum of Fine Arts as a boy, Sanya Kantarovsky has loved pictures that tell stories—whether by the Italian Mannerists, Russian masters, Western modernists, or Soviet political cartoonists. Now he channels that affection into tantalizing paintings that refuse to give up their plots. Deploying the acid hues of Paul Gauguin, the graphic finesse of propaganda, and the dark humor of Franz Kafka, Kantarovsky composes scenes that are tense with drama, though just what's going on is never clear. Flirting with both surrealism and abstraction, his long-limbed figures look as if they'd wandered off a New Yorker cover into a silent avant-garde film. "It's like a moment that never existed but that you feel you've seen before," says the 33-year-old Brooklyn-based artist, who was 10 when he emigrated with his family to Rhode Island. Kantarovsky likes when viewers can really feel his work. "Allergies," his 2014 show at the Casey Kaplan gallery in New York, featured awkward tableaux painted in garish, vibrating tones—almost as irritating as allergens. The source behind his current show at London's Studio Voltaire, which runs through June 7, is the classic Russian novel The Master and Margarita. The performance artist Ieva Miseviciute posed for all the figures and will eventually use the paintings as part of a theatrical set. Next up, Kantarovsky will curate an exhibition at Tanya Leighton in Berlin—no doubt doing unto other trendy artists as he would do unto himself: "Embarrassment and discomfort are a great place for a painting to exist," he says.