Sanya, the "Vacation Island of Choice" in China, Has a New Hot Spot
American hotelier Ian Schrager just unveiled his latest project in Sanya, China. "It is something really special," says Schrager. "It has everything that anybody could ever want."
---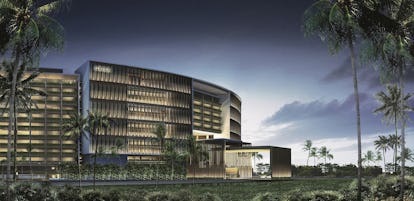 London, Miami Beach, Istanbul, New York—Ian Schrager's Edition hotels are all situated in major international cities that seem like obvious choices. But Sanya, the southernmost city on the tropical Hainan Island in China, is more unexpected.
"Sanya is booming," said Schrager, co-founder of Studio 54 and the creative mastermind behind some of the chicest hotels on the planet (like the Sanderson in London and the Edition hotels, conceived in partnership with Marriott International). "It is the vacation island of choice for Chinese people. You have a big representation of just about every major [hotel] brand in Sanya right now."
The Sanya Edition, a 512-room luxury hotel, is now joining the ranks of the InterContinental and the Mandarin Oriental, which both have homes on the island. At Schrager's new hotspot, the hotel boasts a play land with everything from bumper cars to mini golf, a lifestyle shop with specially commissioned pieces from over 80 Chinese artists and 100 designers; multiple pools (with both salt and fresh water); several unique dining spaces (most intriguing is Xian Hai By The Sea, the hotel's signature seafood restaurant where the focus is on specialty Cantonese dishes and you dine on a floating barge); and 50 acres of lush landscape, complete with a live bamboo grove.
Tell us a little bit about the new Sanya Edition. Doing a hotel in China represented a bit of a challenge. I had to represent what it is today but also what it will be in five years because it is moving so fast. It is changing so fast! It was a little bit of a moving target but I enjoy the challenge of that. We wanted to do something that manifested a cosmopolitan China to the world and show everyone the new China and what it is all about. I had to balance that with what we do, that was the magic potion! The moving target of China, show the world what a cosmopolitan China is like and feels like but we had to play off what we do. We think we did a highly original property with Sanya. Of all the hotels that are there it doesn't feel like or look like the other properties. It's on almost 60 acres with over 500 rooms, six different restaurants, gorgeous landscaping…it was a complete and total new environment. We were able to interpret what the cosmopolitan China of today is. When we do a hotel, we want to do one that feels like it's in China, not the same hotel we would do in Miami Beach.
On that note, what signature elements of the Edition did you want to make sure to include and what is really unique to this property? Whenever we do a hotel, we try to manifest the place that it's in and give it a sense of place and time. You can do that by avoiding clichés. You do a hotel in New York, you don't have to have Statue of Liberties in the gift shop. You have to look at how Chinese people are different and what makes them unique. For example, Chinese people like to vacation and they like the ocean, but they don't like the sun. Chinese people are very family oriented, so we had to do a hotel that accommodated that and also catered to people who are young, sophisticated single people as well. Another good example is when you do have the Japanese families, in America when you have a child and you take them to a daycare center, you generally leave them there and then the parents go away, but in China they don't do that, they stay with the child. So, we had to do something, like Disneyworld, that attracted the kid in all of us. We had to do lots of beaches and play areas that were shaded. We did something we are calling a private ocean with water sports, swimming and jet skiing. It's like having your own private ocean. We have a play land there that is the most sophisticated play land I have ever done. It has full scale theatrical models, it's like a mini Disneyworld that we are all quite proud of. The kids have their own pool, their own beach and lots of great other entertainment areas. Salt water pools, fresh water pools, plus this private ocean. You can sailboat, motorboat, or anything you want, but at night you can get on a private barge and eat by candlelight, it's quite romantic. You feel like you are in a different reality.
A First Glimpse at Ian Schrager's New Edition Hotel in Sanya, China
Will Edition regulars recognize any signatures of the brand in particular? For example, will there be that magical Edition scent in this hotel? No, it's a one-off original piece of property. The common denominator is that it has the same attitude and approach. You can feel the attitude that we have in all our hotels that really unifies them. They all have a different look but that is the common denominator. Similar approach. We have a rooftop bar there that Ben Pundole will be working on for great entertainment. It has everything that anybody could ever want.
What was the most exciting part about doing this property in China? The most exciting part to me is always trying to figure out what people want. What is it that is going to hit the zeitgeist? What are people going to respond to? We are leading people towards something they don't quite know they want yet or need yet. When I am in America or Western Europe, it's easier because I have an intrinsic understanding of those places. China is different because it's new. It's a new country and it is moving so fast. The China we see today is different than the China of next year. It's like landing a satellite on a comet, or like a needle in a haystack. It's about figuring out where is China going to be? You have to do something for the long term and figure out where they are today but more importantly, where they will be tomorrow.
What do you find most interesting about the hotel space right now? Where are hotels going? I think more and more there is an overreaction to design, thinking that is the universal answer to everything. A lot of people are making more of an effort with design, but what I think what happened to the industry three years ago is happening again and every hotel is starting to look like each other, except in different colors now. I think people are rejecting this overzealous design and really craving to have an elevated experience that is spectacular, but very simple and feels good rather than getting bombarded with gratuitous design flourishes. That is the opportunity today to come in and be an antidote to that. It's being done by people who really don't understand what people want. It's kind of ridiculous. It's like when all the big hotel companies would say they wanted to do hotels for millenials. So ridiculous! Do you think Apple designs their products for millenials? Or, they design their products for a certain sensibility and it appeals to people of all ages? That is the trick.
So many people are designing hotels for Instagram these days. What do you think about that? It's a total mistake. It's about creating a real energy in a room and everything else gets taken care of after that. You can't think about trying to make money or how you are going to market it. Those are all important, of course, but you have to focus on the one thing that matters and that is the product. If the product is good, everything else takes care of itself.
So true. One last question for you…Where is the next Edition going to be? We are working on a lot of them—I think about 20 or 22? We have four or five going on in China. I think Bangkok or Barcelona are next.
Watch W's most popular videos here: