Saoirse Ronan and Elisabeth Moss' Period Drama The Seagull Drops First Trailer
It's an adaptation of a classic Russian play.
---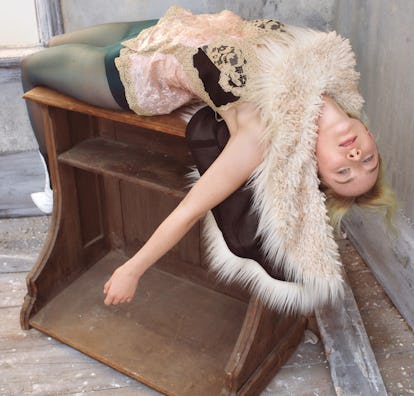 Photographs by Mario Sorrenti, Styled by George Cortina; Hair by Akki at Art Partner; Makeup by Diane Kendal for Marc Jacobs Beauty At Julian Watson Agency; Manicures by Honey for Marc Jacobs Beauty at Exposure NY.
For those who are still nursing a Downton Abbey-sized hole in their heart, Saoirse Ronan and Elizabeth Moss' new period drama The Seagull may offer some relief. The first trailer dropped today and it's rife with love triangles and aristocratic grandeur.
"As summer begins, the guests arrive. The stage is set for a little family drama," says the narrator in the video clip, which necessitates more than one play — if only because there is a lot to keep up with. To name a few: Ronan playing a young woman named Nina who falls in love with the wrong man, a writer named Boris Trigorin and played by Corey Stoll, a crying Moss who's wearing all black because she's "in mourning" for "her life," and Ronan's prior love interest Konstantin played by Billie Howle. (Yes, the same Howle playing Ronan's love interest in another upcoming period drama, On Chesil Beach). There is also Annette Bening's character Irina, who is the zeitgeist for much of the film's drama. Her character, an aging actress, introduces Nina to Boris, offsetting a chain of events that the movie follows.
In the trailer, however, Nina's relationship with Boris doesn't exactly seem star-crossed."What does it feel like to be famous?," she asks him as he paddles their row boat across a pond. "I envy you. You're happy."
"Please be generous," Boris later pleads to Irina. "Let me go," to which she replies, "Are you that infatuated with her?" It's easy to see why Boris would be, as Irina later tells Nina, "Such a face. Such a marvelous voice. You must go up on the stage." "Remember all the laughter and the noise?," Irina later asks, "And the love affairs? So many love affairs."
Meanwhile, Moss' character Masha is much more mysterious. "I'm going to tear this love out of my heart," she says. "I'll get married."
According to director Michael Mayer, the source material was quite groundbreaking at the time Anton Chekhov presented his 1896 play of the same title. "The play was trying to do something surprising and new: to show people behaving in naturalistic ways, to eschew histrionics and telegraphed emotions for something more nuanced," he said in a statement, as Entertainment Weekly notes. "[It allowed] the actors to truly live inside the characters they were playing, and to introduce the concept of subtext to world drama." This time the drama will unfold May 11, 2018.