Saoirse Ronan Played "Who'd You Rather?" on Ellen
The Lady Bird star isn't opposed to having Drake as a "companion."
---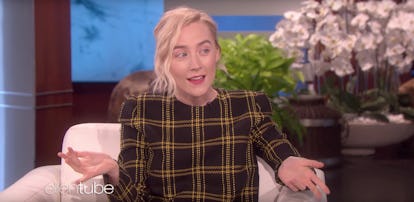 The Ellen Show/Youtube
Claiming that she doesn't "know how to date," currently single Lady Bird star Saoirse Ronan appeared on Ellen and played "Who'd You Rather?"—a game that is exactly what it sounds like. But despite simple rules, the actress was overcome, and a little flustered, by the options Ellen DeGeneres presented.
Ronan first tricked DeGeneres, who is of course married, into asking her on a date, then thought deeply about the rest of her answers. Between her Lady Bird costar Timothée Chalamet and fellow Irishman Colin Farrell, she protested, "I know both of those people!" before landing on Chalamet because, as Ronan points out, Colin's "way older." (Chalamet is 22 to Saoirse's 23; Farrell is 41.)
When it came to Chalamet vs. Harry Styles, also age-appropriate, Ronan pleaded ignorance'—she's never met Styles, so she can't choose based on his personality, of course. She'd have to settle for judging based on his looks and talent, which, if you're Irish goddess Saoirse Ronan, is obviously not enough. She went with Chalamet again, for "companionship" because they are, after all, friends. At this point, Ellen felt she had to remind Ronan that "this is a pretend game" that she's "bad at," but Ronan remained committed to rational decision-making: Jamie Dornan was disqualified for being married, and she knows Ed Sheeran's IRL girlfriend (though Ronan and Sheeran were totally cute together in his video for "Galway Girl"). She doesn't go so far as saying that she has a crush on Daniel Radcliffe, but she's definitely willing to entertain the idea of dating Harry Potter, which should count.
She does have a few gut reactions, like instinctively being into Bruno Mars, choosing Drake over Kendrick Lamar. The whole clip is worth watching, if only for the precious moment of Saoirse becoming totally distracted and rambling on about Coldplay.
Related: Saoirse Ronan And The Women of Saturday Night Live Welcome Men To Hell with a Catchy New Song