A Letter From the Editor: Volume 3, The Music Issue
Editor in Chief Sara Moonves reflects on the making of our latest issue and the importance of creativity during a challenging year.
---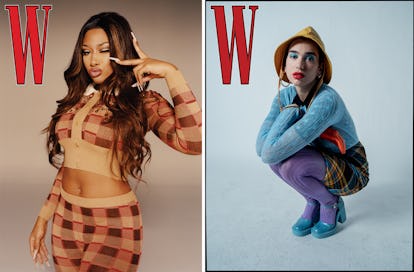 At the beginning of the year, when we started working on this issue in our planning room on the 32nd floor of One World Trade Center, the world was a very different place. At our very first meeting, the W team almost unanimously decided that we wanted to feature Dua Lipa and Megan Thee Stallion as the cover stars of our first ever Music Issue. Dua was an easy choice—she had been the soundtrack to our staff holiday party, where we danced, Secret Santa'd, and played Heads Up! to her hits. Photographer Tim Walker shot her in London in early March, and even though the mood was starting to feel jittery as we found out more about Covid-19, Dua was joyful, kind, and eager to play dress-up. A couple of weeks later, Colin Dodgson photographed Megan Thee Stallion in Los Angeles at the very last moment possible—literally, the day before the city went into lockdown. We didn't even know if the shoot was going to happen, as travel restrictions and curfews were being implemented across the country.
As Covid-19 changed the world, we had to take a pause. At W, we always aim for stories that feel timeless, but we still couldn't help but wonder if the issue would feel tired by the time it came out. As it turns out, music was the glue that held a lot of us together during the most trying times of our lives. Dua Lipa's hit album, as she explains to writer Alex Needham, allowed people to dance around in their homes during confinement. Meanwhile, Megan's trajectory, from the time when we first approached her to be in the magazine to its release now, has been incredible to watch. The writer Clover Hope first interviewed Megan in February, and then again in June, as the Black Lives Matter protests spread through major cities. As Megan used her huge platform to speak honestly and openly to her fans about what was happening, we felt even more excited to have her as our cover star. As you will read in her profile, Megan is one tough woman—even a brush with gun violence couldn't keep her from using her voice to do good.
Contributing features editor Alex Hawgood called me about a story as soon as he heard we were doing a music issue. He wanted to feature the biggest international pop stars that perhaps we hadn't heard of. His story took the W photo team, especially Visuals and Content Director Alex Ben-Gurion and Senior Visuals Editor Oona Wally, on a ride around the world to photograph musicians from Nigeria to Israel to Brazil. Also in the issue is an incredible portfolio of Riccardo Tisci's musician muses, captured by photographer Campbell Addy. As chief creative officer of Burberry, Tisci oversees perhaps the most quintessentially English label of all time—but as these images make clear, his diverse and inclusive point of view is vigorously shaking up any old-school ideas of what British style means today. For further proof that musicians have always been ahead of the curve when it comes to fashion, check out Tim Walker's shoot of legends old and new, ranging from Marianne Faithfull to Rina Sawayama to Paul Simonon to Kelsey Lu.
It has been an incredibly challenging time for everyone everywhere, but one thing is certain: Music is universally loved. It's a language that everyone speaks, and it has the power to connect us all. Our wish is that this very special edition of W will bring you joy, introduce you to some new stars you didn't know before, and reintroduce you to some old favorites in a new light.
As the world goes through a reset, our family at W has had one too. I feel so lucky to have a team that is loyal, honest, smart, creative, and a pleasure to work with every day. I miss seeing everyone in the office, but we are all getting used to our new normal on Zoom. In a way, video conferences have brought us even closer together, as we have invited everyone into our homes, to meet our family members and learn more about each other. We hope you are staying safe, wearing a mask, getting to spend time with loved ones, and figuring out what your new normal is.
Love,
Sara Moonves
To read the Music Issue in its entirety, head to Apple News+.