Kueng and Caputo: Design's Swiss Misses
The duo's furniture collection, Never Too Much, straddles design and art.
---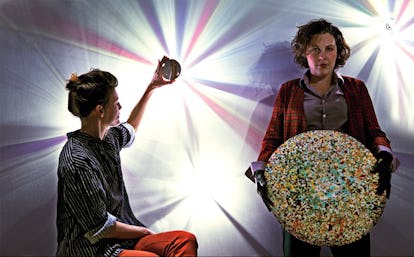 Sarah Kueng, 33, and Lovis Caputo, 34, met while students in industrial design at Zurich University of the Arts and began making conceptual work like Copy, distorted replicas of furniture by designers such as Marcel Wanders and Maria Pergay; and 5 Stars Cardboard, a series of faux fancy hotel suites. But it doesn't take much thinking to appreciate Never Too Much, the Swiss design duo's latest body of work, which was on view earlier this year at Salon 94 Freemans in New York. The splashy, hand-painted leather and enameled stools and benches, as well as the hand-painted leather bowls, come as a complete sock in the eye. All the pieces are one of a kind, but their painstaking production belies total functionality. "I used the bowls to serve pasta and salad," swears the duo's gallerist, Jeanne Greenberg-Rohatyn.