Built To Last
In her latest film, Sarah Morris takes on two icons of architecture.
---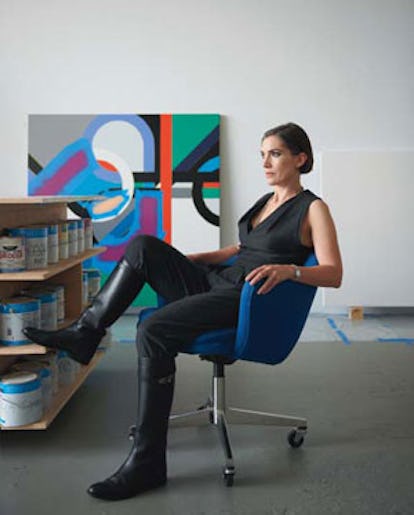 Shot with a painterly point of view and set to intense musical scores, artist-turned-director Sarah Morris's first eight short films center primarily on heavily populated cities, from 2002's "Miami" to 2008's "Beijing." Her newest project, "Points on a Line," is decidedly narrower in focus. After receiving a commission from the National Trust for Historic Preservation, Morris (left) cast the spotlight on two legendary homes: Mies van der Rohe's Farnsworth House in Plano, Illinois, and Philip Johnson's Glass House, in New Canaan, Connecticut. "I was challenged by how to deal with the fetish of these empty shells," she says. "But when I got there, I realized how interesting it was going to be because of the absence of the personas." The late architects behind the structures are indeed absent from "Points on a Line," but their intersecting histories propel the film. Morris takes viewers inside New York's Seagram Building (built by Mies) and its ground-floor restaurant, the Four Seasons (designed by Johnson), and even provides a glimpse of Johnson's dog, James, who still lives on the Connecticut property. "It was a big surprise when I found out the dog was still alive," says Morris. "If you're going to try to capture the place, why not use the dog?"
"Points on a Line" (above) will be screened at New York's Friedrich Petzel Gallery from February 18 to March 26.
Photos courtesy of Sarah Morris