Thinking Inside the Box
A meeting of the minds in New York City's coolest apartment.
---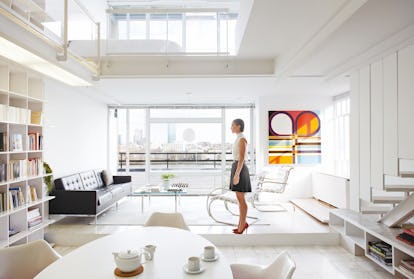 Jason Schmidt
The first time the painter John Currin set foot inside his friend Sarah Morris's new apartment, he said point-blank that he thought she was nuts. "He told me he always knew I was extreme and crazy but that he did not know I would push it this far to live inside my work," Morris recalls as she sits at her Eero Saarinen dining table on a sunny late-spring morning, taking a long drag on a cigarette.
Morris makes paintings and films that explore the codes and power structures of cities, corporate institutions, media, and architecture. The apartment in which she has lived since 2012 is the work of the architect Paul Rudolph—the fifth and sixth floors of a neo-Georgian townhouse on Manhattan's East Side that he bought in 1976. Twenty-three Beekman Place was awarded landmark status in 2010 and is well known for the dramatic four-story, 17-level, cantilevered glass–and–steel penthouse Rudolph added over a six-year period. But before the architect embarked on what many consider to be his magnum opus, he converted the rest of the building into apartments.
Morris's particular unit is more or less in original condition and contains many Rudolph signatures—a wraparound catwalk, floor-to-ceiling bookshelves, an intricate layering of space and light—albeit on a relatively manageable scale. (Rudolph reportedly liked to tell the story of how a guest visiting him at the vertiginous penthouse, where he lived until his death in 1997 from asbestos-related cancer, became so disoriented that she had to be removed from the premises on a stretcher.) But as the architect Joseph Giovannini wrote in The New York Times in 2004, even in small commissions, Rudolph thought no small thoughts. His own apartments, especially, served as design laboratories.
Still, Currin had a good point. Unlike, say, Jil Sander, who, despite her minimalist designs, chooses to live in an ornate former bank with interiors by Lorenzo Mongiardino, Morris seems entirely in her element here. The Rudolph apartment is hard-edged and seductive, a lot like Morris's work and, well, a lot like Morris herself. "My paintings use strategies like distraction, scale, and play—and even a sexuality—that are all in good architecture and which Paul Rudolph has in spades," says the artist, who favors slicked-back hair, a gash of red lipstick, and clean silhouettes in the bold colors of her paintings.
Morris was immediately attracted to the apartment's design ("I could never live in a place where nothing is straight," she says) and to the light ("During the day, you get these blasts of Miami-style light, and at night it's very cinematic"). But even more appealing to her was the suggestion of possibility at the intersection of modernism and the social mores of the '70s. The apartment is essentially one big double-height room, with two open mezzanines connected by a catwalk. The setup is such that even getting up in the middle of the night to use the bathroom becomes a sort of performance—a simultaneous act of voyeurism and exhibitionism that sheds light on the architectural historian Vincent Scully's assertion that Rudolph represented the side of the American consciousness that is always trying to find and identify the self.
Further adding to that sense of theatricality are expansive East River views—the Pepsi sign, the Renwick Ruin, the Louis Kahn–designed Four Freedoms Park, the constant flow of barge traffic. The vistas offer not only 24-hour distraction but also a dramatic backdrop to anything that happens to be going on inside. "The idea of entertaining is built into this space," Morris says. "It gives you license to do whatever you want."
The artist Sarah Morris in her Manhattan apartment, designed by the architect Paul Rudolph.

Photographed: Jason Schmidt Styled: Felicia Garcia-Rivera
Morris, seated at an Eero Saarinen table in the dining area
Morris wears a Celine shirt; her own necklace.
Her painting Telebrás [Rio], 2013
Photo: courtesy of Sarah Morris
Detail of her Marquês de Herval [Rio], 2013
Photo: courtesy of Sarah Morris
The apartment at night, with its illuminated catwalk

Photographed: Jason Schmidt
Floor-to-ceiling bookshelves visually connect the apartment's two levels.

Photographed: Jason Schmidt
Still, as much as Morris was drawn to Rudolph's work, the apartment, she insisted, came to her—and not the other way around. Twenty-four hours before she was set to sign a lease on another place, and just as she was about to get on a plane to Abu Dhabi, her real estate broker called to say that an original Rudolph apartment had become available. "I tried to act cool," says Morris with a throaty laugh, recalling how the broker tried to persuade her to cancel her trip. "I told her if I don't go to Abu Dhabi and do my work, I won't be able to afford the apartment."
But in some way, Morris, who has lived in a string of architecturally ­significant buildings—including the Barbican Estate, a massive postwar brutalist-style complex in London, and the elegantly sleek Wallace ­Harrison–designed United Nations Plaza in New York—might have conjured her latest home subconsciously. Three years ago, she was working on the film Points on a Line, a meditation on Ludwig Mies van der Rohe's Farnsworth House and Philip Johnson's Glass House. "At the Johnson house, they let me do whatever I wanted with his stuff that was, sadly, packed up in a number of cardboard boxes," Morris says. Johnson kept a Rolodex, and Morris went through it and shot all of the cards that interested her—from Manolo Blahnik to CVS to Prince Franz of Bavaria to Taste of Asia to…Paul Rudolph. "I was intrigued by [Johnson and Rudolph's] relationship," Morris explains. "But what's funny is that my future address entered my work as early as 2010. Maybe it was some sort of weird tarot card, or maybe it was just architecture porn. I don't know."
Morris, who is working toward a fall solo show at Petzel Gallery in Manhattan, has yet to fully comprehend the ways in which inhabiting Rudolph's psyche has infiltrated her own creative process. "A lot of people assume I'm into architecture," she says. "I'm not. I see architecture almost like an excuse—as a platform for a whole set of behaviors to happen. What does this architecture viscerally command?"
She has no plans to make any improvements to the apartment or, for that matter, to move ever again. And she frequently fantasizes about taking over the entire building. (It's on the market for $22.5 million.) "Some places feel temporary because they don't reflect who you are," Morris says. "I have no desire to live anywhere else. But then, you never know. I said the same thing when I moved into UN Plaza."