Sarah Paulson "Can't Stop, Won't Stop" Gushing About Holland Taylor
The 46-year-old actor celebrated Taylor's 78th birthday with a love fest on Instagram.
---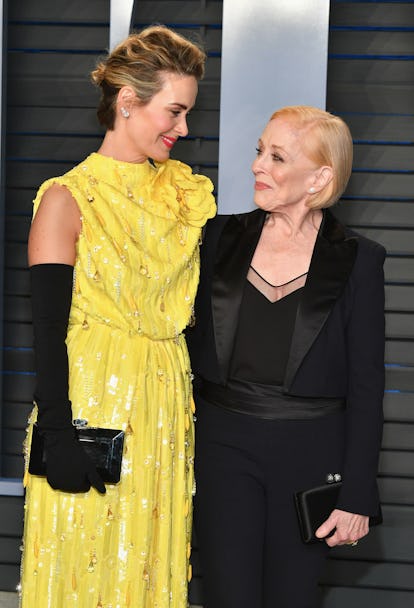 Photo by Dia Dipasupil via Getty Images
If you are aware that this Thursday was Holland Taylor's 78th birthday, it's probably thanks to Sarah Paulson. The 46-year-old actor pulled out all the stops—and that's saying something, given that she's perhaps the most vocally enamored person in all of Hollywood. It's a title Paulson first earned in 2016, when she announced their relationship by proclaiming her love for the septuagenarian in an Emmy acceptance speech.
"I want to shout from the rooftops all the time about how much I love that person, so if I can do it in front of millions of people, why not?," Paulson said after stepping offstage. (They were then a year into what had been a private relationship, which began when Taylor slid into Paulson's DMs in 2015.)
True to her word, Paulson hasn't stopped gushing since. And that was especially true on Thursday, when Taylor turned 78. "All roads lead me to this face, those eyes, that soul," Paulson captioned her birthday tribute. "You are, quite simply- everything to me. Here's looking at you, kid. Today. Tomorrow. Always." ("I am balling! You guys are the cutest," Cara Delevingne commented.)
For some couples, that would be enough. But the love fest continued on Paulson's Instagram Stories, where the actor acknowledged that she "can't stop, won't stop." The photos of Taylor that followed were accompanied by captions like "Tell me who is more beautiful than this person. Fight me."
If you're still stuck on the couple's 32-year age difference, well, Paulson couldn't care less. "Early on, when people found out I was with Holland, some said: 'I think you have to be careful, I'm afraid it's going to affect your career negatively'. I was like, what? It never occurred to me at all," she said in 2017. "My life choices are, um, unconventional. I'm with a much older person and people find that totally fascinating and odd, and, to me, it's the least interesting thing."
Related: Sarah Paulson's Relationship With Holland Taylor Began With Some Good Old-Fashioned DM-Sliding