Sarah Ramos Is Producing Socially Distant Reenactments of Iconic Movie and TV Scenes on Instagram
Starring Elle Fanning, Aubrey Plaza, and Tavi Gevinson.
---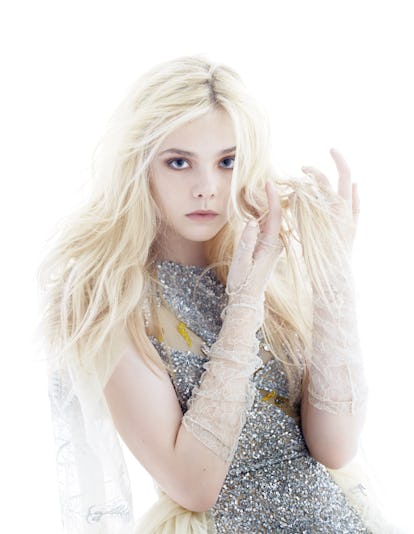 Many people have spent this quarantine cleaning out their closets, others have practiced meditation. Sarah Ramos, however, has been posting campy reenactments of classic scenes from movies and television show on her Instagram, and even enlisted the help of her famous friends to act as scene partners.
The scenes have been acted out with both actors practicing safe social distance measures, of course, and producing them separately in their own homes. It's hard to pinpoint an exact genre in which one could place the scenes acted out by Ramos, but let's just say they're all part of a very specific kind of canon, easily taken out of context and memed, and very easy to get stuck in your head.
It all started with a scene from Sex and the City, when the Parenthood actress took on Kim Cattrall's come-hither voice as Samantha. In this particular scene, Samantha and Adam Ball (played Bobby Cannavale in the series, and Ramos in the Instagram reenactment) run into a problem in the bedroom.
Ramos went on to perform scenes from Holiday in the Sun, Riverdale, and A Cinderella Story, taking on all roles in the scene herself. (She also published a reenactment of a scene from Bring it On, where she plays both Kirsten Dunst and Eliza Dushku, but that one is on TikTok, not Instagram.)
After a handful of solo attempts, she got some scene partners, beginning with Aubrey Plaza, who helped act out "The scene where Nomi & Cristal talk about eating doggy chow while drinking champagne" from Showgirls. The commitment to matching the film's lip liner is worth commending.
She then took it a step further with Tavi Gevinson co-starring as Scarlett Johansson in Marriage Story, acting out the iconic, overly-memed scene where she and Adam Driver's character (played by Ramos, of course) get into a fight and he wishes his soon-to-be-ex wife would die after punching a hole in the wall.
And then, she took on a scene from My Best Friend's Wedding, nailing Julia Roberts's tiny sunglasses look while Elle Fanning really went for it imitating Cameon Diaz's cute little '90s bob and pearl necklace. It's a scene towards the end of the film, where Julianne (Roberts and Ramos) tells Kiki (Diaz and Fanning) "you're never gonna be jello" in an effort to continue sabotaging her wedding to Michael (Dermot Mulroney).
Knowing that entire scenes can be reenacted and produced separately for Instagram, you can now no longer ever say that you're bored while in quarantine.
Related: Goodfellas and Legally Blonde: W Editors Pick Their Favorite Films