Sarah Staudinger Loves Rainbow Sandals, Hates Harem Pants
The fashion designer shares a page from her style notes.
---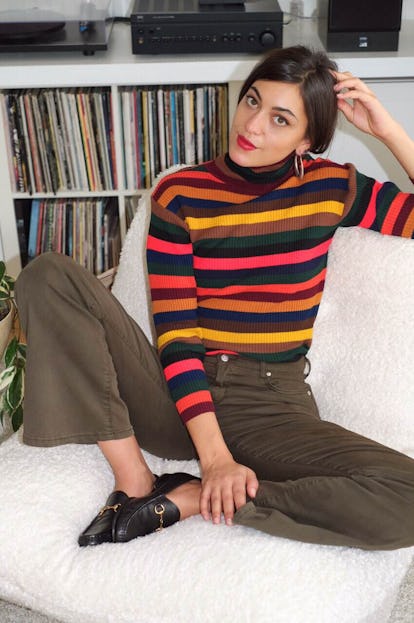 Sarah Staudinger is a master of that effortlessly chic Los Angeles look that only natives seem to know how to pull off. For the past few years, she's brought her stylish eye to L.A. brand Reformation, where she worked as the Fashion Director. This week, she and partner George Augusto are launching STAUD, an easy to customize, highly wearable line, that is designed and manufactured in her hometown, Los Angeles. And, of course, the It girl has been test-driving her own pieces. Here, she reveals her favorite items from the collection, as well as her L.A. haunts, style icons, and more.
Define your style: High school art teacher.
Daily uniform: Usually culottes, small tops and low block heels for daytime. Fall makes me want to be a lady. A cat-eye, clean lines, but always marked with at least one stain or small hole, because I can't seem to avoid them.
Greatest hits: The Bronte layering piece we made for fall. It's a game changer. It's not a dress, not a smock, and not a bib, but something in between that discreetly changes an outfit. I have been putting it over pretty much everything and feel chic even if I'm a disaster that day.
Preferred footwear: Trademark Cadiz sandals, the 1953 Gucci horse bit loafer, and the Staud Kirk block heeled sandal that we'll release with our resort collection.
Finishing touches: Uschi Obermaier hoop earrings, Vintage Givenchy sunglasses, and Flea (my yorkie/bestfriend).
Nighttime look: Embellished mini dresses, minimal makeup, jumpsuits and Erte earrings.
Best recent discovery: Biologique Bio Magic Mask. I have no idea what it does or how it works, but it makes you look like you just woke up 10 years ago after the best sleep of your life. Also the "Rad Roller," which looks remarkably like a dog-toy, kind of a design anomaly, but has unreal effects on a tense body.
Favorite stores: Collection in Echo Park is one of my favorite vintage stores right now. Henessey & Ingalls is a great bookstore that you can waste hours in. I also recently discovered this amazing little store called "Nonna" in Highland Park. They carry some great brands and it's really cozy.
Style pet peeve: Harem Pants.
Style icons: My Dad, always. Right now, Julie Christie, Slim Keith and Betty Catroux.
Last purchase: Rainbow Sandals. I know… but they might just be the new Birkenstocks? I have real faith they are going to be pretty sought-after one day. But I could be way off!
Lusting after: Sophie Buhai's Brancusi barrette.
Favorite haunts: Joe's Stonecrab tops my list forever, it's in Miami but they oblige pretty crazy and distant delivery requests. Kitchen mouse in Highland Park for lunch and breakfast. I also recently discovered Go's Mart Sushi in LA. It's a deep valley hidden gem.
What's always in your bag: YSL Touche Éclat, a teasing comb (true story), Muji pen and a mini palo santo stick. I also always have a measuring tape, which I use constantly. But what takes up the most bag real estate is my huge mermaid wallet. It's really heavy and unnecessarily large but it makes me so happy.
Photos: Sarah Staudinger Loves Rainbow Sandals, Hates Harem Pants
The Staud Kirk block heeled sandal.
Sarah Staudinger wearing the Bronte.
Sarah Staudinger in an embellished mini dress with her dog, Flea.
Biologique Bio Magic Mask, measuring tape, and a palo santo stick.
1953 Gucci horse bit loafer.