Exclusive: Supermodel Sasha Pivovarova Collaborates with Cult-Favorite Brand Frame on a Collection of Illustrated Denim
"Altering and redesigning my clothes has been my passion since I was a little girl," says the Russian model-slash-artist Sasha Pivovarova of her collaboration with cult-favorite denim brand Frame.
---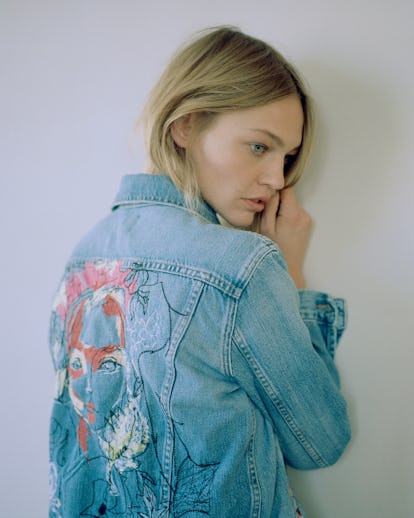 styled by Ryann Foulke. Produced by Biel Parklee. Hair by Sabrina Szinay for Kevin Murphy at the Wall Group, Maki H for Chanel at the Wall Group.
Sasha Pivovarova's wide-eyed, hypnotic face is internationally recognizable, thanks to her frequent appearances in ad campaigns for Prada and more, as well regular magazine covers. But off-camera, the Russian supermodel has been working on her career as an artist, illustrating books for both Karl Lagerfeld and Miuccia Prada, and exhibiting her work in Paris and New York. Most recently, she's lent her creative talents to much-beloved denim brand Frame for a limited-edition collection, which features her botanical illustrations. Here, Pivovarova talks with W exclusively about her new four-piece denim collection, her ambitions as an artist, and more.
Have you always loved to draw and create art? When did you first start and what did you draw? I always made art as a child, it allowed me to sink in my fantasy world. I drew everything that was inspiring at that time, including fairies and nymphs. I drew until high school, and when I started modeling my art began to resemble fashion illustration with long-legged, big-eyed girls. My sketchbooks are my diaries. When I was pregnant with my daughter I did many drawings that had the theme of motherhood.
Did you study art in school? I studied Art History at the Russian State University for Humanities.
Who are some of your favorite artists? I love symbolism. My favorites artists are Gustave Moreau, Ivan Bilibin, Aubrey Beardsley, and Léon Bakst. I love the way they pay attention to detail, their graphic quality and the line work
What is your favorite museum in the world? I guess it would be Musée National Gustave Moreau in Paris. It is his (Gustave Moreau's) original studio and living quarters. I prefer to see art in the environment where it was created.
Tell me about your history with Frame? I met Erik [Torstensson] a while ago and when he started Frame he sent me their first pair of jeans, which I absolutely loved. I was featured in their Spring/Summer 2015 campaign and again in their Spring/Summer 2017 campaign.
How did you go from modeling for the brand to designing? Altering and redesigning my clothes has been my passion since I was a little girl. Frame sent me a pair of jeans and a jacket as a gift and I took to my fabric markers and went wild on it. I showed those jeans to the their creative team and they loved it. I appreciate the fact that they gave me full artistic freedom and were very supportive in the process. The illustration I created for the collaboration was inspired by nature and beauty.
What's your favorite pair of everyday jeans? I like a skinny fit, as well as a comfy boyfriend jean.
What was your typical outfit for castings and go-sees when you first started modeling? Have you always been a jeans girl? I got into jeans in 2012. My typical outfit when I started modeling was more glamorous; I loved high heels, Chanel coats, big oversized hats and lots of accessories.
What advice do you give to aspiring models? I keep telling girls that the beauty is in individuality and it is best to be yourself because you are unique.
What is your current favorite piece of art you own? I purchased a print by Robert Rauschenberg at the AmfAR charity gala and auction
What are you working on right now other than your Frame collaboration? I am constantly in a creative process. I love making art and hopefully will have a personal exhibition one day soon.
Watch: photographers "always ask" Kate Moss to take off her clothes