Sasha Pivovarova Is the Star of Prada
The face of Prada's spring campaign makes a case for eclectic layers.
---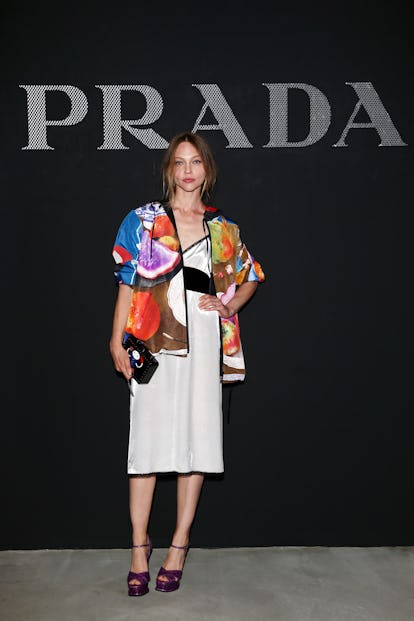 Photo by Getty Images.
Who: Sasha Pivovarova.
When: Sunday, June 19.
Where: The Prada Spring 2017 menswear presentation in Milan, Italy.
What: A Prada corset over a black and white tea-length slip dress, a field jacket, also by Prada, and bright purple platform heels.
Why: Russian model Pivovarova — also the star of Prada's Spring 2016 campaign — combines a little bit of every recent Prada statement, from the miniature corset cinching her white slip dress to the field jacket illustrated by Christophe Chemin. The collective impression of the bits and pieces she assembles is eclectic and nonchalant, a counterpoint to the practiced study of the runway show. And you can never go wrong with a still life of fruit.
See the Peter Lindbergh-photographed "Apocalypse Wow," starring Pivovarova, come to life:
[#cnevideo: /cnevideos/577e6b8722bb8b091a368006]||||||