Something in the Air
With perfumed galleries and scent symphonies, artists are hitting the right notes.
---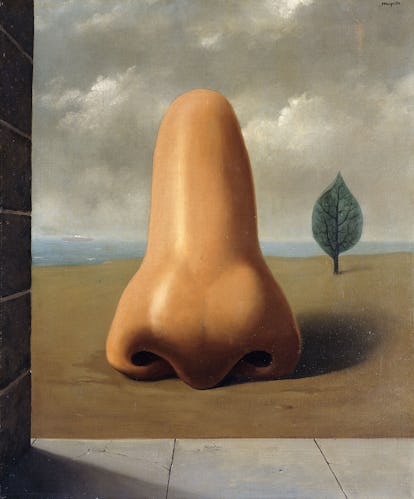 To some, art smells like nothing so much as money, but in Los Angeles these days there's a distinctly sweeter scent wafting through the halls of culture: perfume. Thanks to the rise of a California–based artisanal-fragrance movement, perfume is becoming a dynamic new medium for artistic collaborations.
Standing squarely at this intersection is the –Institute for Art and Olfaction (IAO), an experimental organization in downtown L.A. founded by the artist Saskia Wilson-Brown in 2012. With its stainless steel tables, chalkboard gray walls, bountiful beakers, and ever expanding fragrance library, the IAO is "first and foremost a lab," says Wilson-Brown, who studied perfumery in Los Angeles and San Francisco. In addition to hosting classes and events such as a scent-themed literary salon, the Institute regularly works with local artists to design scent components for their various creative endeavors. Currently in the sniff-test stage is the smell of Manifest Destiny, a project spearheaded by the artist Zoe Crosher and the nonprofit arts organization Los -Angeles Nomadic Division (LAND). A series of billboards along the 10 Freeway will display images about territorial expansion by Crosher and other artists, including John Baldessari and Mario Ybarra Jr. In the accompanying perfume, notes of leather, dust, sweat, and jasmine evoke the journey west.
For the British artist Linder, whose sexually charged photographic collages often include images of flowers, fragrance adds another dimension. The oud, rose, and linden blossom notes that drifted through the Blum & Poe gallery in Los Angeles for the run of her solo show there this fall were the result of a collaboration between Linder, Maria Blum, and Persephenie Lea, a local perfumer and the creator of the cult body-care line Persephenie. Meanwhile, Sanae Barber, who blends her all-natural Sanae Intoxicants in her Los Feliz atelier, works with indie-rock artists like Will Oldham and Father John Misty. Oldham's Bonnie Billy has an exotic Middle Eastern intensity, and Innocence by Misty, a sort of conceptual boho Love's Baby Soft, opens with sweet orange blossom and violet notes before drying down to something more carnal. "It's a composition," Barber says. "It's notes and keys and chords—a story told in a language beyond words."
Wilson-Brown will put that concept to the ultimate test in January, when the IAO presents a "scent concert" at the Hammer Museum in Los Angeles. A Trip to Japan in 16 Minutes, Revisited, a re-creation of an ill-fated performance staged by the renowned aesthete Sadakichi Hartmann in 1902, features the work of the veteran perfumer Sherri Sebastian. "It is so rare that I get to do perfumery just for the sake of art," says Sebastian, who is best known for her luxury pillow spray, Purusa Dream Extract. "It's an honor." The 16-minute piece will be performed eight times for a blindfolded audience; six scents will be disseminated using specially designed compressed-air canisters (Hartmann had relied on soaked cheesecloth and manual fans) and accompanied by an -atmospheric soundscape and live audio effects. The olfactory itinerary will begin on a shuttle to Los Angeles International Airport and conclude in a Tokyo hotel—a voyage through leafy palms, birch tar and ozone, neon-lit streets, and, finally, the smoky incense of a dream. Whether the audience will go along with it or simply pass out from fragrance fatigue is anyone's guess. "We all realize that this could fail drastically," Wilson-Brown says cheerfully. "So let's try it!"