Meet Satchel Lee, Spike Lee's Trendy Daughter With Her Own Magazine
Satchel Lee, the director Spike Lee's daughter, is a trendy creative with activist goals.
---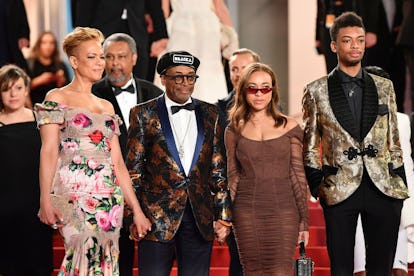 Emma McIntyre/Getty Images
Creativity, it would seem, runs in the Lee family. Case in point: Satchel Lee, Spike Lee's daughter.
A recent graduate of New York University, Lee studied at the Tisch School of the Arts (her director dad is also an alumnus of NYU, where he received his M.F.A. in film and television, and he now teaches at the institution as well). On her Instagram, the 23-year-old takes aim at the trends (tiny glasses are all the rage, even with Hollywood scions) and supports her father's filmmaking endeavors—she even attended the Festival de Cannes this year in support of the highly anticipated film BlacKkKlansman, which won the Grand Prix back in May. Her brother, Jackson Lewis Lee, was present at the ceremony, along with her mother, Tonya Lewis.
Like her father, Lee has dedicated her career so far to giving space to those who have been outcast or isolated, as exemplified in her creative director status at DRØME, a recently launched "queer/feminist/intersectional arts and culture magazine" and "platform for marginalized voices." Per the current issue's letter from Lee and Caroline D'Arcy Gorman, the founder and editor-in-chief of DRØME, the publication's main goal is to "nurture underrepresented artists." While jumping into the creative director title, Lee also made a name for herself at MTV's TRL Think Tank.
"I celebrate Women's History everyday. I celebrate Black History everyday. I celebrate LGBT+ History everyday—because without an understanding of the importance of the successes, struggles, and sacrifices my predecessors have had to overcome, I don't believe I could move through this world with integrity," Lee wrote back in March for a feature on Women's History Month. As her publication grows and garners more features on artists that break the boundaries of binaries, Lee doesn't need the success of her father to prove she is going to be one to watch—she is a success story all on her own.
Related: Spike Lee on What's Funny and What's Definitely Not About BlacKkKlansman, His Cannes Grand Prize–Winning Film