It's More Than Just Trump—Fashion and Art Also Joining Forces to Save the EU
Artist Wolfgang Tillmans and the co-founders of fashion magazine Fantastic Man have come together for a campaign to save the EU.
---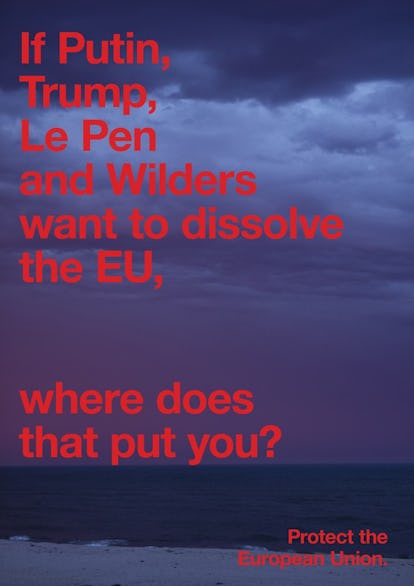 Donald Trump may be the headline right now, but the type of right-wing nationalism he's tapped into is not constrained solely to America. We've already witnessed Brexit in the United Kingdom, and a string of upcoming elections in other European countries this year could further move the entire western world away from the internationalism that has defined it since the end of World War II. The worrisome goal of that ever-growing right across the Atlantic? A movement to dissolve the European Union.
Of course, we've seen how creative communities here have responded to Trump's election. There were the slogan tees and political statements at New York Fashion Week, the immediate Instagram musings of visual artists, and the many shows of resistance at Hollywood awards show.
It comes as little surprise, then, that those in European art and fashion are now flexing their creative muscles in protest.
Jop van Bennekom and Gert Jonkers, the co-founders of Netherlands-based fashion magazines Fantastic Man and The Gentlewoman, have started their own campaign to protect the EU, ahead of the Dutch elections on March 15.
They've created a collection of posters, available in four languages, which are modeled after similar pro-EU posters made by the artist Wolfgang Tillmans during the Brexit campaign.
"With this campaign we want to tackle the illusions which the enemies of the EU promote and propagate," wrote Bennekom and Joonkers in a statement. "Cooperation amongst the citizens of all EU member states is the key to our future peace and prosperity. We believe in the common ground between our countries."
The Dutch election, scheduled for March 15th, will see incumbent Prime Minister Mark Rutte face off against a host of challengers, but Geert Wilders, a far-right politician who has caused controversy not just in the Netherlands but internationally (he was once banned from entering the UK) for his controversial opinions about Islam and for stirring up fears about immigration, is currently neck-and -eck with Rutte in the polls. Leaving the European Union is, of course, a core tenant of Wilders's campaign, and that of his 11-year-old political party the Party for Freedom. (Incidentally, just this past December, Wilders was found guilty of inciting discrimination for leading an anti-Moroccan chant at a rally.)
The posters also make mention of Marine Le Pen, the French politician currently leading the polls for her country's Presidential election in April. She inherited leadership of the formerly fringe far-right populist party National Front from her father, and is running on a platform that criticizes the EU and is rife with anti-Immigrant and anti-Muslim rhetoric as well.
It should be obvious that these elections are not just about the fate of the European Union, but whether Europe will once again find its politics besieged by ethnic pride and fear of outsiders.
Though, Bennekom and Jonkers clarify that the campaign has no political aim other than merely keeping the European Union in tact.
"Vote for whatever party, but don't vote down the EU," they wrote. "Now is the time to raise awareness and to protect what has protected us, and our values, for so long."
"The EU is not a faceless machine but the representation of 508 million people. While surely there are still many things to be improved, the core belief in this institution has secured the longest period of inter-European peace and cooperation in history. A democratic conversation between 28 member states is tedious—but it ensures a steady dialog, a constant weighing of the many different demands involved in making each single decision. These processes foster safety and stability, and allow us to call a whole continent something which would otherwise be much smaller: home."
The Art of Politics: What Happens When 15 Artists Take On the Campaign Poster
The Italian provocateur Maurizio Cattelan is best known for satirical art works that send up art history and notions of grandeur—institutional or national—such as his life-size wax effigy of Pope John Paul II downed by a meteor. For W, he created an original image suggesting the quackery threatening our most revered symbols.

Produced by Diane Solway
Nina Chanel Abney's large-scale paintings confront the social issues of the Black Lives Matter movement and the relationships between police officers and people of color. Irreverent, bold, and pop-savvy, they're layered with words and faces in a bright mash-up that recalls Matisse's cut-outs.

Photograph by Teddy Wolff. Produced by Diane Solway.
George Condo burst on the scene in the early 1980s alongside artists like Keith Haring and Jean-Michel Basquiat, helping to usher in a new age of painting that mashed up classical sources with a street-art edge. His most widely seen artwork is likely the five provocative covers he made for Kanye West's 2010 My Beautiful Dark Twisted Fantasy. He has titled his W poster All Saints All Souls Election Day…CAMPAIGN FOR FREE TIME.

All Saints All Souls Election Day…CAMPAIGN FOR FREE TIME. Produced by Diane Solway.
The Berlin-based artist duo Elmgreen & Dragset, who created the pool at Rockefeller Center in New York City this past summer and the Prada store in Marfa, Texas, explore identity, sexuality, and mortality in site-specific sculptures and works that are often tinged with dark humor. Their election poster is no different. (There's always hope, right?)

Produced by Diane Solway.
Marcel Dzama, 42, and Raymond Pettibon, 59, began collaborating in the summer of 2015, when they first swapped and completed each other's drawings. In this poster, as in their joint drawings, their styles combine so seamlessly that it's as if each artist absorbed and anticipated the approach of the other.

Oh beautiful tyranny: Courtesy David Zwirner, New York/London. Produced by Diane Solway.
Zoë Buckman and Hank Willis Thomas teamed up to produce a poster for the campaign of a powerful woman—in this case, Jemima Kirke, an artist and star of the HBO series "Girls." Here she wears rose-colored glasses made of specula to envision a brighter future. The London-born Buckman has focused on feminism in her work, while Thomas has long examined how race, class, and sexuality have been depicted in mainstream media and advertising.

Styling by Sarah Zendejas; hair by Johnny Rackleff at Marie Robinson salon; Makeup by Hiro Yonemoto for Dior at Atelier Management; Manicure by Yuko Wada for Dior at Atelier Management; lighting technician: Hai Ngo; digital technician: Marion Misilim; lighting assistant: Ben Berry; fashion assistant: Alexandra Pastore; Kirke wears Gucci top; Bodas top (underneath); (from left) Theodora Warre earring; Paige Novick earring. Produced by Diane Solway.
Founded by American artists Nicole Eisenman and A.L. Steiner, Ridykeulous mounts exhibitions and events primarily concerned with queer and feminist art. Their work uses humor to critique the art world as well as the culture more broadly. As a solo artist, Steiner has worked in performance, video, and photography to explore questions about sexuality, gender, and politics. Eisenman, best known as a painter, was the subject of a solo show earlier this year at New York's New Museum and a 2015 recipient of the MacArthur Genius Grant.

Produced by Diane Solway.
The Turner Prize–winning artist Jeremy Deller, who represented the U.K. at the 2012 Venice Biennale, creates collaborative installations and projects that have included parades and battle re-enactments. His 2001 The Battle of Orgreave, which was filmed, brought together nearly 1,000 people in a public re-enactment of a violent confrontation between miners and government forces. Here he creates a poster in the style of famed 19th-century British designer, craftsman, activist, and poet William Morris, who pioneered the Arts and Crafts movement and was also a social activist. Vote for the artist as social activist.

Vote William Morris, designed by Fraser Muggeridge Studio. Produced by Diane Solway.
Kathryn Andrews's first U.S. solo museum show, "Kathryn Andrews: Run for President," riffed on Bozo the Clown's presidential bid—something Bozo's alter ego, Larry Harmon, actually pursued in 1984. (You might say there are still imitators.) The exhibition included a mural of political-documentary photographs that invited viewers to think about how politicians, celebrities, and artists use imagery to gain and maintain power.

Produced by Diane Solway.
Moscow-born, New York-based painter Sanya Kantarovsky loves pictures—whether by the Russian masters, Western modernists, or Soviet political cartoonists—that tell stories. Drawing on a wide range of sources, his tantalizing paintings and drawings are tense with drama and dark humor.

Photograph by Adam Reich. Produced by Diane Solway.
Born in Poland and based in London, Goshka Macuga, a 2008 Turner Prize nominee, makes large-scale tapestries, sculptures, photographs, and theatrical installations that explore how art can be used to spark public debate and bring about social change. She was the subject of solo shows earlier this year at the New Museum in New York and the Prada Foundation in Milan.

Produced by Diane Solway.
"I Am an Immigrant": Fashion's Biggest Names Issue a United Statement: