The 'Say So' and 'Savage' Remixes Just Made Tons of Chart History
Several records were shattered.
---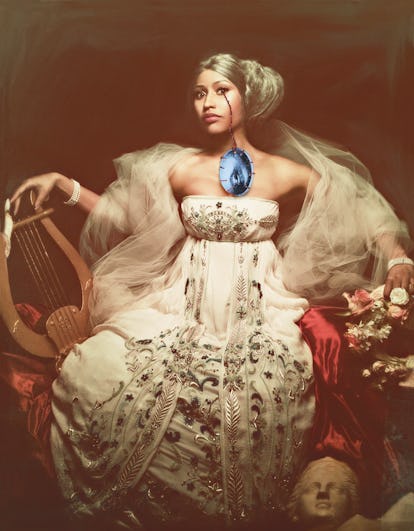 One day, we were just sitting around our homes in lockdown, and then, with little warning, we were suddenly watching one of the most exciting Billboard chart races of our time. Shortly after Megan Thee Stallion surprise-dropped her Beyoncé-assisted remix of "Savage," word broke that a Nicki Minaj remix of Doja Cat's "Say So" would follow later in the week. Not only do both songs represent the sudden importance of TikTok on pushing a hit single (both tracks had viral dances on the platform before the remixes), but are also major moments for women in rap.
With all the streams, sales, and airplay accounted for, "Say So," somewhat surprisingly, managed to edge out "Savage" for the number-one spot. Though, the Beyoncé and Megan collab nabbed the silver medal, and along the way a whole lot of history was made.
For one thing, it's the first time two female-fronted rap songs have ever taken up the top two spots on the chart.
"Say So" is also one of only a handful of rap tracks by women to ever make the summit, and Doja and Minaj are now the seventh and eight female rappers to ever have a number-one song (they follow in the footsteps of Lauryn Hill, Lil' Kim, Shawnna, Iggy Azalea, Cardi B, and Lizzo).
That also means this is Minaj's first number-one single ever. She's reached the peak on genre charts, and her collaboration with Jessie J and Ariana Grande, "Bang Bang," was a number one over in the UK, but this is Nicki's first on the Billboard Hot 100. In fact, Billboard adds that she nows hold "the record for the longest wait for a first Hot 100 No. 1, by total career entries, as 'Say So' is her 109th charted title on the tally."
The "Savage" remix also comes with some history of its own. Beyoncé has now claimed top 10 hits in four decades starting with the '90s through now. Mariah Carey is the only other woman to have done that so far (though, her only top 10 chart entry in 2020 includes her holiday standard "All I Want For Christmas Is You").
While the stan armies are sure to act up, there appears to be nothing but love among the artists (and keep in mind, Minaj has collaborated with Megan and Beyoncé previously).
Even other artists are excited.
Indeed, "Say So" is only the seventh number-one single in history that's a collaboration between two solo female artists. Something tells us it won't be the last. Not only is it still possible for the "Savage" remix to replace it next week, we do keep hearing rumors of an impending Lady Gaga and Ariana Grande collaboration as well.
Related: How Liana Finck, Instagram's Favorite Cartoonist, Designed Cover Art for Ariana Grande