Young Artists: Saya Woolfalk
The artist's vision of something she calls "No Place" (inhabited by half-human, half-plant figures called No Placeans) is freaky and fantastic.
---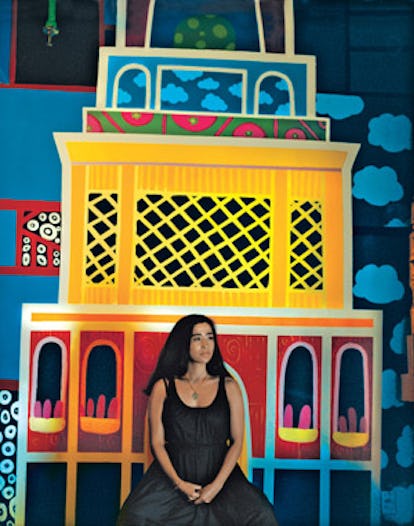 For the last two years Saya Woolfalk has practically lived in No Place, the futuristic work she is creating through painting, sculpture and video. So it's not surprising that when she talks about it, the line between fact and fiction seems a little fuzzy. More than just a plain old multimedia installation, No Place has its own inhabitants and culture. The bubbly 29-year-old delights in describing every nook and cranny. "I talk about it as if it could be real," admits Woolfalk, who is completing a yearlong stint as an artist-in-residence at the Studio Museum in Harlem, where No Place was recently shown. "But I never forget that it's another place."
Installation view of No Place: (pre)Constructed, 2008.
Woolfalk's world is inhabited by half-human, half-plant figures called No Placeans, who in her paintings are portrayed roaming a psychedelic landscape reminiscent of Yellow Submarine. In one piece, they appear in front of a blue and yellow building surrounded by pink phalluses. As part of the project, Woolfalk filmed the No Placeans—played by the artist, her friends and colleagues—in the style of a documentary. In it, the cast performs rituals in costumes created by Woolfalk, among them a bubble-shaped headpiece. Eric C. Shiner, chief curator at the Andy Warhol Museum in Pittsburgh, says No Place "allows us to see that our own lives are just as diverse as the world she's making. She's making a reflection of what life really should be."
Though the piece grew partly out of Woolfalk's reflections on utopia, her influences also originate closer to home. Born in Japan to a Japanese mother and an African-American and white father, Woolfalk draws on Japanese anime and traditional African garments for many of her characters and costumes, blending cultures so that her work feels at once foreign and familiar. "Because I'm mixed race, I have this idea that to leave the conversation ambiguous is interesting," she says.
Woolfalk made her first pieces while studying at Brown University; among them was a set of anatomically correct finger puppets with which viewers were encouraged to play. She made her New York debut in the group show "Greater New York 2005" at P.S.1 Contemporary Art Center.
Studio Museum director Thelma Golden sees parallels between Woolfalk and process-focused artists such as Liza Lou, who painstakingly covers her sculptures in beads. "There's an obsessive quality to Saya's art, and the way it plays into the feeling of the work is fantastic," says Golden. Woolfalk, in fact, is not done with No Place: Next year she plans to include dancers depicting modern-day humans who evolve to become No Placeans. Just how they'll do that, she doesn't yet know. "I try to leave it open," Woolfalk says. "Isn't it more fun that way?"
Artworks courtesy of Saya Woolfalk.