Scarlett Johansson and Colin Jost Leaked Their Marriage News for Charity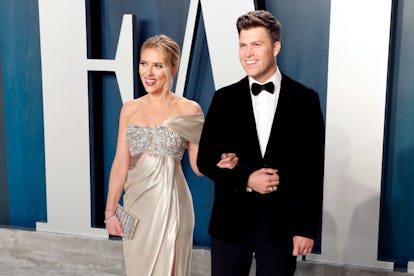 Celebrity weddings tend to require an extra level of planning that normal people probably don't envy: how to announce the wedding to the public. Scarlett Johansson and Colin Jost, who married this weekend in an intimate ceremony, found a novel way to do it—they leaked their own wedding news for charity.
No, the announcement of the Johansson-Jost nuptials (#Josthansson?) did not appear in the pages of People or Us, Vogue's online wedding section, or The New York Times, but rather, on the Instagram account of the charity Meals on Wheels America.
"We're thrilled to break the news that Scarlett Johansson and Colin Jost were married over the weekend in an intimate ceremony with their immediate family and love ones, following Covid-19 safety precautions as directed by the CDC. Their wedding wish is to help make a difference for vulnerable, older adults during this difficult time by supporting @mealsonwheelsamerica. Please consider donating to celebrate the happy couple by clicking the link in our bio," read the post.
The message did not include any wedding photos—instead, a picture of the Staten Island Ferry with "Just Married" (or in this case "Jost Married") cans photoshopped on to the back.
Jost and Johansson were first publicly linked in December 2017. Johansson had made a cameo on Saturday Night Live, where Jost is both a Weekend Update anchor and co-head writer, earlier in the year playing Ivanka Trump (she's popped up once since the pair has begun dating, and the relationship has often been alluded to during the Weekend Update segment). The pair were engaged in May 2019.
This is Jost's first marriage, and Johansson's third.