Sister Act
Scarlett Johansson and Natalie Portman—cast as rivalrous siblings in The Other Boleyn Girl—have seemingly nothing in common. But as it turns out, the utterly uninhibited bombshell and the self-possessed pixie are more like sisters than you'd think.
---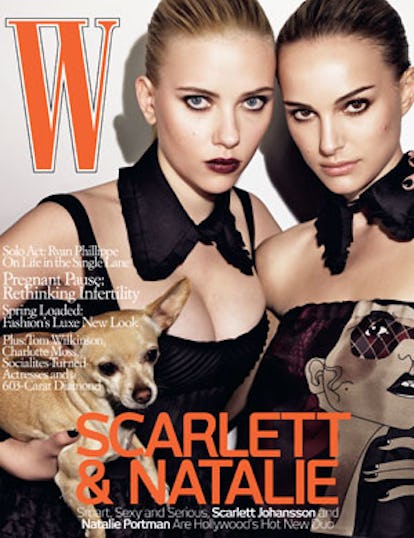 It's not easy to find a man whose celebrity crush list includes both Natalie Portman and Scarlett Johansson. Both actresses are gorgeous, sure, but in such different ways that they seem almost of separate species. The 23-year-old Johansson is a modern Marilyn Monroe, complete with platinum mane, fleshy curves and a sexy-throaty voice. The 26-year-old Portman, in contrast, is the very embodiment of delicacy and refinement: small, perfectly shaped features, boyish body and careful Ivy League diction.
Early on a Sunday morning, as they bide their time on the set of their W photo shoot in Santa Fe, New Mexico, the actresses' odd-couple demeanors are on full display. Johansson, still in her terrycloth robe, is a blur of movement: kidding around with the makeup artist, roughhousing with Maggie, her Chihuahua, and periodically breaking into a rave-style dance to the beat of the techno music playing in the background. Meanwhile, Portman, having finished her breakfast of granola and fruit, her hair and makeup already done, is silently perched in a corner, her Hepburn-slim legs crossed demurely, filling out a Sunday New York Times crossword at a pace that would make Will Shortz wonder whether he's slipping.
The two actresses seem to live on opposite ends of the asceticism-hedonism spectrum. Over dinner, Johansson's eyes widen at the arrival of her chicken quesadillas, still sizzling on the plate. "Don't you miss quesadillas?" she asks Portman, who's ordered an eggplant dish that suits her newly vegan diet. (A vegetarian for animal rights reasons since she was eight, Portman recently decided to nix animal by-products too.) "I mean, I could not eat meat," continues Johansson, as if her question had been purely rhetorical, "but the cheese, the cheese! I would miss tuna too. And yogurt…."
Portman, as succinct as Johansson is loquacious, answers gamely: "Yeah, I don't know how long it will last."
Given their differences, Johansson and Portman make for unlikely sisters. But that's precisely what they play in the movie The Other Boleyn Girl, out February 29 and based on Philippa Gregory's best-selling novel of the same name. The book blends highbrow historical drama with soapy intrigue—"history through porn," Portman calls it—and was the ubiquitous book club pick of 2002. The fictionalized plot details how the quiet and innocent Mary Boleyn was actually the mistress of King Henry VIII before her sister, the scheming and sassy Anne, made a play for his affections and eventually became queen. And even more unexpected than their having been cast as sisters is the fact that Portman plays Anne and Johansson is Mary.
"It's funny, quite a lot of people said, 'Shouldn't it be the other way around?'" says Alison Owen, the film's producer, who notes that Johansson and Portman were the hands-down first choices to play the rivalrous siblings. "Scarlett is the street-smart one, the initiator. And Natalie has a wisdom and a cleverness about her; she's more of a quiet authority. But I knew it would be intriguing for them to play something removed from a lot of the roles they've done."
They pull it off too, with Portman deftly taking on the quick wit, ferocity and—eventually—desperation of Anne Boleyn and Johansson managing to trade her typical sass for quietude and purity. "It was interesting to see how they both handled it," says director Justin Chadwick. (The film marks his feature directorial debut; he has previously helmed television dramas for the BBC.) "Particularly for Scarlett, who has to play this steady, calm kind of character that's not as showy as Anne."
The actresses understand the stereotyping as much as they take umbrage at it. "I get branded a lot as a good girl," says Portman. "I'm, like, the prude, and you're more sexy, more like…" "A harlot!" Johansson blurts, and the two dissolve into laughter.
Indeed, Portman exhibits a cautiousness that's often mistaken for iciness; she chooses her words deliberately and holds her cards close. "I don't want people to have a juicy read about me," she says. Johansson, meanwhile, tends to ramble on unself-consciously about everything from doing sex scenes ("There are 60 people right there eating, like, salami sandwiches!") to the Iraq war. Says Penélope Cruz, who became close with Johansson on the set of the upcoming Woody Allen film Vicky Cristina Barcelona, "She's so open and funny and cute—I want to bite her when I see her!"
Portman's restraint and Johansson's lack of inhibition ended up being quite compatible on set—in fact, says Owen, they behaved like coconspirators, constantly backing each other up when one had a request or suggestion. "They were like two friends at school," she says.
At times, Johansson even did the talking for Portman. "Natalie would be uncomfortable in her costume and not say anything," says Johansson. "She'd tell me, 'My rib is killing me.' I'd be like, 'Natalie, why don't you say something?' I'd have to be like, 'Hellooo, someone, Natalie's rib is hurting! Can you fix her zipper?'"
"I know," says Portman, laughing, "my avoidance is a bit much." Her fear of confrontation, she explains, is why she's "superpicky" about what projects she chooses; she wants to be sure she agrees with a director's ideas before committing, because she knows she won't want to argue later. "As an actor, you have to respect your position and know that you are fulfilling someone else's vision," she says. "Mike Nichols always quotes Mamet's line: 'Film is a collaborative business: bend over.'"
That's part of the reason both women, who share a certain precociousness, have joined the ranks of actors who plan to direct. Portman has teamed up with producers who own the rights to Amos Oz's A Tale of Love and Darkness, the writer's memoir of growing up in Israel, and she is set to direct—in Hebrew. "I've been reading Oz since high school, and when I read his biography I just sort of saw it," says the Harvard- educated actress, who was born in Israel before moving with her parents to Long Island, New York, and is fluent in Hebrew. (She's also proficient in French and speaks some Arabic, thanks to several graduate-level courses at Hebrew University in Jerusalem.)
"Her discipline will make her a well-organized and well-prepared director on set," says Wong Kar Wai, who directed Portman in My Blueberry Nights, out in limited release in April. "I'm sure she will put the whole weight of the film on her shoulders, making everyone's job easier but her own."
Johansson, for her part, is in talks to helm a short film that will be part of New York, I Love You, a Stateside counterpart to 2006's Paris, Je T'Aime, a movie about Paris that consisted of 18 shorts by different directors. If her directing gig comes through, the Manhattan native will be in good company: Among the other directors linked to the project are Mira Nair and Anthony Minghella.
Portman and Johansson have certainly seen their fair share of directors in action. Both scored starring roles by age 11 and have since taken their places among the few in young Hollywood who are considered "serious actresses"—in other words, those more likely to win a gold statuette than to do a stint in rehab. Portman made her Lolita-esque debut in The Professional, had grown men weeping with Beautiful Girls, and later took on the exaggerated makeup and stiff delivery of Queen Amidala in the Star Wars prequel trilogy. Reviewers forgot how much they disliked that performance after films like V for Vendetta and Closer, for which she scored an Oscar nomination and won a Golden Globe. Johansson, meanwhile, got her start in the movie North and four years later piqued critics' interest with her role opposite Robert Redford in The Horse Whisperer. She truly arrived, though, by way of her understated turn as a soulful and sarcastic Tokyo tourist in Sofia Coppola's Lost in Translation, for which she received a Golden Globe nomination in 2003; she was also nominated that year for Girl With a Pearl Earring.
Johansson says the chance to work with Portman is what really sold her on The Other Boleyn Girl. "Natalie was already attached when I read the script," she says. "And I was desperate to work with her. She was the most attractive aspect of the project to me from the beginning."
Portman's reputation as "someone who puts everything into her projects," as Owen describes it, comes from more than just her movie work. She spends part of each year traveling on behalf of the Foundation for International Community Assistance (FINCA), a nonprofit that grants business microloans to impoverished women. An active animal rights supporter, she recently cohosted a documentary about gorillas in Rwanda and is about to launch a vegan shoe line for the New York store Té Casan, which she designed with her stylist, Kate Young. But now that she's just wrapped her most recent movie—Brothers, a Jim Sheridan film costarring Tobey Maguire and Jake Gyllenhaal—she's hoping to relax a bit. "I've been trying to watch more TV!" she says, boasting about a newly acquired addiction to Iron Chef. Even her time on the sofa, however, has a higher purpose: She explains that watching TV helps her "converse with people," she says. "People talk about TV way more than you think."
Needless to say, clubbing with Paris Hilton doesn't make it onto Portman's schedule. Perhaps surprisingly, the same is true for Johansson. She recently finished shooting Vicky Cristina Barcelona, her third collaboration with Allen, as well as a Frank Miller fantasy film costarring Samuel L. Jackson and the ensemble comedy He's Just Not That Into You. And given that throaty voice, it was only a matter of time before she attempted to launch a side career as a singer. Last spring she recorded an album consisting of Tom Waits covers and one original song that will be released by Rhino Entertainment in May.
Following in Portman's philanthropical footsteps, Johansson signed on to be an Oxfam ambassador last year; she's already visited India and tsunami-devastated areas of Sri Lanka and is planning a trip to Africa. Days after our meeting she was set to head to Kuwait on a USO trip. "They told me I get to ride on a big naval ship!" she brags.
"Scarlett is two creatures living within the same body," says Eric Bana, who plays Henry VIII in The Other Boleyn Girl. "She's this strong woman who's worldly beyond her years, but on the flip side she's this young girl who could still be dragging her teddy bear around and just wants to have fun."
Both Portman and Johansson have a policy of not discussing their romantic lives, but unlike the more careful Portman, Johansson is not as rigorous in her self-censoring, often falling into the plural—"we went here," or "our friend was saying"—thus alluding unintentionally to her relationship with actor Ryan Reynolds. According to press reports, the two began dating last spring, after Johansson broke off her long-term relationship with actor Josh Hartnett, and now share her Los Angeles home. (Portman, who was formerly involved with actor Gael García Bernal, is now rumored to be dating Nathan Bogle, a cofounder of fashion label Rag & Bone.)
"You're never going to find me at the Ivy," says Johansson, referring to the notorious paparazzi hangout. "I don't care how good the Cobb salad is. These tabloid magazines—I think they're hideous and the downfall of society." In fact, a week after this interview, the tabs reported she and Reynolds were engaged, though her camp vigorously denied it.
Johansson's sourness comes on the heels of her recent tussle with Us Weekly, which she threatened to sue after a cover implied she'd had a nose job. "It was as ridiculous as if they'd showed side-by-side pictures of me at 11 and 20 and saying, 'Look, she grew breasts!'" she fumes.
Right now, though, fighting the rumor mill is less important to Johansson than fighting for her presidential candidate of choice, Barack Obama. She spent several days in Iowa in January, working the phone banks on his behalf and talking to high school and college students about the importance of caucusing. "I will continue stumping for Obama until he's elected," she declares. "The past eight years have been painful for a lot of people. We're in a state of emergency."
A fellow political junkie, Portman is still struggling to decide between Obama and Hillary Clinton. She can't help remembering how impressed she was when she met the latter, who was sponsoring a FINCA-backed bill that went before the Senate. "I met with about 10 representatives that day and Hillary was by far the sharpest. Did you read Gloria Steinem's op-ed piece?" Portman asks, citing Steinem's January 8 column about Clinton in the New York Times. "Hillary's just so experienced."
Without question, both actresses are passionate about their beliefs. When they really get going on an issue, it can be a little like watching a Hot Topics segment of The View. "I'm into monogamy," says Portman. "But I'm not really into marriage right now. I sort of hate the legal aspect of it. What does the state have to do with it? Why are they making rules that say my lover can stay in the United States if they're foreign or share my health care benefits because I'm straight"—here her eyes flash with horror—"but if you're gay, you can't have that?"
"It's so archaic," Johansson agrees. "It's just, like, bizarre to me. I feel like in 10 or 15 years' time our children are going to look back and say, 'What? You were around when gay people weren't allowed to get married?'"
Johansson goes on to say that she is, for the record, excited about the idea of marriage and having a family. Harlot jokes aside, she's painfully aware that the press has made much of her sex life—including whether or not she did, in fact, have relations with Benicio Del Toro in an elevator, as was rumored in 2004. (She has denied it.) "I've been battered for saying that I don't believe humans are monogamous by nature," she says, referring to an interview she gave two years ago. "The response was, like, 'What a ho-bag!' I didn't mean that I don't practice monogamy in my own life—of course I do! I'm not going to be in some tarty relationship. But I stick by what I said.
"I remember another time," Johansson continues, getting more and more irritated, "I said I get tested for AIDS twice a year, and again that got spun as me being promiscuous. But I was single at the time, and I think it's important to do that!"
"That's totally responsible," Portman says. "A great role-model thing to talk about."
Of course, coming from Portman, an endorsement of safe sex doesn't sound scandalous. Perhaps it's her Harvard degree or—let's be honest—her smaller cup size.
"The only thing that's a little bit annoying," confesses Portman, when the subject turns to her public profile, "is I feel that I come off kind of boring sometimes."
"I don't think you're boring," says Johansson in sisterly solidarity.
"Thank you," says Portman. "I appreciate that."