Scarlett Johansson Is Nobody's Baby
Mother, chanteuse, computer operating system, bombshell alien… no matter the role, Scarlett Johansson is her own woman.
---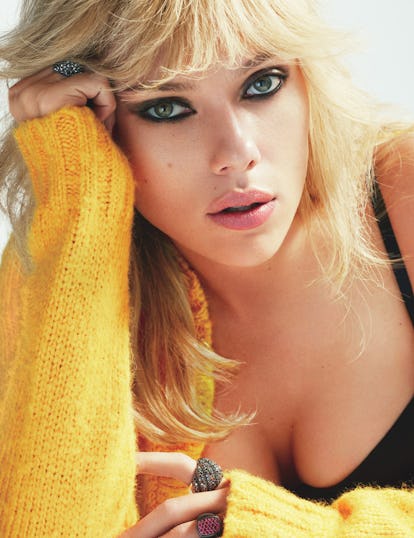 "When she came out of me, I was so surprised," Scarlett Johansson told me on a cold day in December. We were at the photo shoot for this story, and Johansson, who had given birth to her daughter, Rose, just three months earlier, was wearing tight jeans and an equally snug white sweater. Her short, almost platinum hair, which would soon be covered by a Debbie Harry circa-Blondie shag wig, was slicked back. "I had a very strong picture in my mind of what my baby would look like," Johansson continued. "And, of course, she is completely different. Perfect, but not what I'd imagined. Now, of course, I can't picture her any other way." Johansson smiled. As always—and I have been interviewing her regularly since her breakthrough role in 2003's Lost in Translation—she was at once forthcoming and guarded. Johansson, who just turned 30, has been acting professionally since she was 7 and is entirely comfortable in the spotlight. ("Everyone has seen my breasts!" she said when an assistant offered her a private changing room. "I can change my top right here.") And then, when it truly matters, she can be remarkably discreet. It was months before the public caught wind of her marriage to the French journalist Romain Dauriac.
Johansson has always taken unexpected creative chances: In 2010, at the height of her movie stardom, she defied critics by acting in Arthur Miller's A View From the Bridge on Broadway and, to the astonishment of many, winning a Tony for her performance. With the verve of a '60s chanteuse, Johansson has recorded albums, and they are far from vanity projects. And just when she seemed a bit too art house, she took the role of Black Widow, the female superhero in The Avengers. The much-awaited sequel to that movie, Avengers: Age of Ultron (the trailer garnered 34.3 million hits in its first 24 hours online), is due in theaters on May 1.
The past year was, in particular, a big one for Johansson: In addition to becoming a mom, she starred in two of the only interesting female-centric films of 2014. In the global blockbuster Lucy, she plays a woman who ingests a drug that gives her superior mental and physical abilities (telekinesis, ass-kicking), and in Under the Skin, she is a seductive, murderous alien. "I was completely naked in that movie," Johansson said matter-of-factly. "She was a totally different species, so her nudity was kind of practical. I also had black hair. That was my idea—I didn't think I should be a blonde sort of bombshell. Naked, but not too sexy."
See Scarlett Johansson's style evolution here.
As a child in New York, Johansson was fascinated with every aspect of show business. "I had a big imagination," she said. "I particularly loved Judy Garland, and, to me, she did it all. For as long as I can remember, I wanted to be an actor. And I wanted to do everything. When you're a kid, they send you on a lot of commercial auditions, and I was terrible at selling things. I never got those parts. I remember crying in the subway, and my mom said, 'Look—let's forget it. Do something else.' And I replied, 'No. You can't take this away from me. I want to be an actor!' Waiting for the B train, I had my come-to-Jesus moment."
So Johansson (and her mother, who became her manager) decided she would audition only for films. In addition to a precocious mix of sexy and cute, even as a girl, Johansson had a trump card: her deep, slightly hoarse, smoky speaking voice. "When I was young, I would talk and everyone thought I had a cold. But when I went out for films, they loved my voice. It was a different world." In 2013, Spike Jonze capitalized on Johansson's voice brilliantly in Her—as Joaquin Phoenix's love interest, a disembodied computer operating system. Jonze told me that Johansson arrived every day to play the part wearing red lipstick and a cocktail dress, even though she would never appear on camera. "That's ridiculous," Johansson said, bursting into her throaty laugh. "Maybe I wore a little lipstick, but I think he was just relieved that I wasn't in pajamas. Joaquin and Spike were both coming to work in pajamas at that point."
See more photos of Scarlett Johansson on W's Mood Board.
Strangely, before Jonze, no director or animator had taken such advantage of Johansson's voice. "I actually visited Pixar, hoping that they would use me for a cartoon," Johansson said. "They didn't. I was ripe for the picking! What happened?" She paused. "Now they have to give me a cartoon! I just called them out." In a non-neurotic way that is rare for an actress (or anybody for that matter), she has no fear or anxiety about venturing into new territory; she is hugely proactive.
"People were surprised that I wanted to play a comic book heroine," Johansson said. "But I loved Iron Man, and I met with Marvel to see what was possible. I had done my research, and the Black Widow character resonated with me. She is dark and has faced death so many times that she has a deep perspective on the value of life. In the sequel, you learn more about the sadness in her past." Johansson might have well been talking about a classic heroine of epic complexity. "I think of her that way. Black Widow is a superhero, but she's also human. She's small, but she's strong. It's hard not to admire her." Johansson laughed, perhaps realizing it was herself she could be describing. "She packs a big punch," Johansson said as she left to check on her daughter, who was sleeping nearby. "We all try to fight the forces of evil. Like Black Widow, you have to keep trying. The challenge is always there."
Scarlett Johansson: Nobody's Baby
Scarlett Johansson wears Michael Kors cardigan; La Perla bra; David Yurman rings.

Photography by Mert Alas and Marcus Piggott. Styled by Edward Enninful.
Dolce & Gabbana romper; Eres bra; Jennifer Fisher necklaces; Maria La Rosa socks (throughout); Tom Ford sandals.

Photography by Mert Alas and Marcus Piggott. Styled by Edward Enninful.
T by Alexander Wang bralette; La Perla bra (underneath); Diesel Black Gold skirt; Jennifer Fisher necklace; Versace from Resurrection Vintage, New York belt; Wendy Brandes rings. Beauty note: Dolce & Gabbana Perfect Reveal Lift Foundation in Classic perks up a complexion.

Photography by Mert Alas and Marcus Piggott. Styled by Edward Enninful.
Chanel jacket; Dolce & Gabbana romper; Eres bra; Jennifer Fisher necklaces.

Photography by Mert Alas and Marcus Piggott. Styled by Edward Enninful.
Coach peacoat; Diesel Black Gold skirt; Shrimps collar. 
Beauty note: Line eyes with 
Dolce & Gabbana Perfect 
Mono Intense Cream Eye Colour in Lava for a punk-rock edge.

Photography by Mert Alas and Marcus Piggott. Styled by Edward Enninful.
Dolce & Gabbana romper; Eres bra; Nora Korgan bracelets; Jennifer Fisher necklaces.

Photography by Mert Alas and Marcus Piggott. Styled by Edward Enninful.