Schoolboy Q Launches His Own Line of Merch, But Don't Call It That
The Los Angeles rapper gets in the fashion game, but is doing it his own way. Here, he shares his style rules (slippers, always) and beauty secrets (weed).
---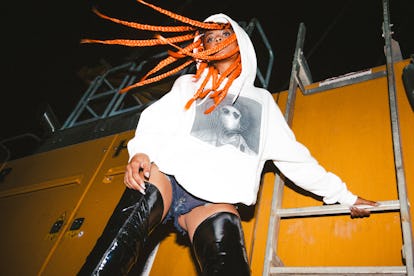 Raul Romo
The rapper Quincy Matthew Hanley, who was born in South Central, Los Angeles and goes by Schoolboy Q, launched his own line of merch today — but he doesn't want you to call it that. His "Blank Face" tour collection adds to the long list of musical artists getting in the fashion game — Kanye West, Beyoncé, and Justin Bieber, to name a few — but Q argues that his style has its own personal, authentic "groove." It does, after all, feature his lyric, "Me no conversate with the fake," written in gothic font and a tie-dye print (a reference to his California roots).
The lyric is from Q's hit single "THat Part," which features Kanye West and currently has over 41 million listens on Spotify. Below, the rapper behind the anti-merch merch gets personal in our Style Notes questionnaire.
Name: Schoolboy Q Occupation: Artist Age: "1-years-old" Hometown: "These nuts" Currently based: LA
What made you want to do this line? Because it's catered to my groove. I just like to dress nice and usually if I like it, most people like it. In 2014 I had the bucket hat and now that I took it off no one else is rocking it.
Why do you not want the line to be considered merch? I'm not overthinking it or thinking of it like a fashion line. I just like dressing fly myself and if that becomes a fashion line then it'll happen because it's dope.
What do you like about tie-dye? Tie-dye because where I'm from we "groove" and I consider myself a groovy person. It's also a dope way to represent my neighborhood.
Style icons/inspirations: Me, I'm the coldest! I wake up and I throw regular shit on and make it work everytime.
Daily uniform: Around the house I rock slippers, socks, tank-tops, and I keep a hoodie close, so I can hide my egg head. If I'm going out it's usually a plain t-shirt and all my jeans are Saint Laurent. I might put on a pair of Air Jordan 1's, but eventually I'll put on some slippers again.
Where you go for inspiration: Bergdorf Goodman and Mr. Porter. I look at the site and click to see how it looks on that little white guy in the box and then I see how I'm going to give it more flavor.
Night out look: Depends where I am. New York, Los Angeles, Chicago, Miami, Europe — all depends. If it's Los Angeles on a regular summer night, probably a plain white or black Margiela t-shirt with my favorite Saint Laurent jeans, and Chucks or sandals.
Preferred footwear: I come from a sports background, so Nike.
Grooming secrets: Wash your face in cold water three times a day, smoke as much weed as possible, go to the gym, get a haircut and then you be "one-years-old," like me.
Best recent discovery: Visvim Christo sandals.
Style pet peeve: I hate people that wear leather jackets with a whole bunch of zippers and making hella noise when they are walking.
Last purchase: I just spent like $15,000 today on Saint Laurent, Louis Vuitton which I rarely buy, and the whole new Gucci Snoopy collection. I got the Snoopy tank top. I'm a fan of Gucci.
Something you would never wear: Leather jackets and any full-leather outfits. They can miss me with that. Also, designer belts. I might have on an $8,000 outfit with a regular belt that I borrowed from the homie.
What's always in your bag: Two pair of shoes; one of those are always a pair of 1970's Chucks. Extra underwear and socks because you never know what might crack off.
Schoolboy Q Launches His Own Line of Merch
The limited-edition Schoolboy Q "Blank Face" collection with the support of TDE will be available starting September 19th at all Blank Face tour stops and online at txdxe.com with select styles available for purchase only on tour.