Scooter Braun Sells Taylor Swift's Back Catalog for $300 Million
The celebrity feud is over, but Swift's artist's rights battle continues.
---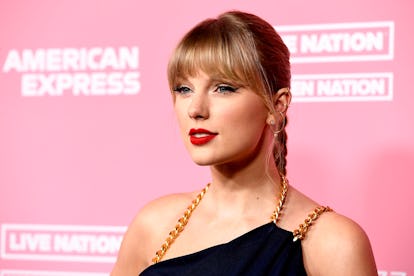 Frazer Harrison/Getty Images
Scooter Braun has cashed out of the Taylor Swift business for a pretty penny—just 17 months after entering it and setting off a business drama bomb that ricocheted across both the gossip columns and the business pages.
Back in 2019, Braun's Ithaca Holdings LLC paid somewhere just north of $300 million for Big Machine Records, the Nashville-based indie label that released Swift's first six albums. The rights to Swift's master recording came along with that. Now, according to Variety, he's sold Swift's back catalog alone for another sum rumored to be more than $300 million to a mystery buyer. In case you're wondering how this makes business sense: Braun's firm still owns the rest of Big Machine, which also includes artists like Sheryl Crow, Lady A, and Rascal Flats. Essentially, the transaction left Braun with one free record label for his troubles.
Swift, you might recall, was none too pleased with the news. The last big-time celebrity to use Tumblr as their social media network of choice, Swift lambasted Braun as a "incessant, manipulative bully" in a post on the microblogging site.
"This just happened to me without my approval, consultation, or consent," Swift elaborated later that year in a speech at Billboard's Women in Music ceremony. "After I was denied the chance to purchase my music outright, my entire catalog was sold to Scooter Braun's Ithaca Holdings in a deal that I'm told was funded by the Soros family, 23 Capital, and the Carlyle Group."
While online gawkers tried to gin up some drama between Swift and Justin Bieber, Braun's biggest client, the drama more importantly played out against the backdrop of a shifting music industry and a sudden boom in investment firms buying up musicians' catalogs like stocks and bonds. (The short story: in a world where few people actually pay for music anymore, all the money is now in continued streaming, radio play, sampling, and licensing for film, television, and advertisements.) Several artists have willingly sold their catalogs in recent years, but Swift's original contract didn't give her a say.
Swift, however, has used her platform to speak up and has publicly committed to a plan to essentially undercut the value of her catalog. While this new unnamed owner has the rights to the existing recordings of the songs, Swift still owns the copyrights to her songs and her contract does allow her to record new versions of those songs (something she's stated she will do). Swift would, theoretically, then be able to upload those versions to streaming services and license them out under her own control, cutting the owners of the original recordings out of the deal. Though, even that tactic has its limitations: her classic music videos and album covers are now owned by this yet-unnamed third party as well.
Braun essentially exits the narrative now, lessening some of the "celebrity feud" angle—but Swift's struggle will continue.
The good news for Swift: thanks to her new deal with Republic Records, she owns the masters to her two records Lover and Folklore. The good news for her fans: even with Braun out of the picture, there's still a good chance you'll hear those re-recordings someday soon.
Related: Taylor Swift vs. Scooter Braun: An Exhaustive Outline of Their Legal Feud