Sebastien Tellier, Euro Star
Sébastien Tellier is France's hottest new musical export.
---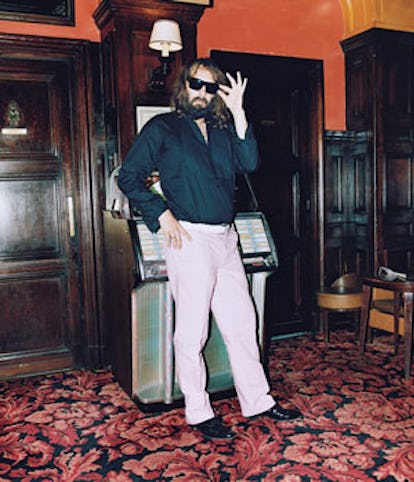 If rumors of a renaissance in French pop music are to be believed, then homegrown crooner Sébastien Tellier makes for a fittingly louche poster boy. He has certainly ticked all the right boxes so far, with a vote of confidence from Sofia Coppola (who chose his song "Fantino" for the Lost in Translation soundtrack) and a starring role in a new short film by artist Xavier Veilhan that shows Tellier cavorting on Gianni Agnelli's mythical black yacht. And then there are Tellier's links to France's most influential crossover groups: Air (he made his concert debut as the band's opening act) and Daft Punk (whose Guy-Manuel de Homem-Christo produced his latest album).
"The only French music foreigners know is electronic. The rest doesn't export—because it's really bad," says Tellier, sparking up a cigarette outside his neighborhood Parisian bar Le Forum, one hand wrapped around a glass of pastis. Just back from a concert in La Rochelle, Tellier appears to be suffering from travel fatigue—or perhaps from a hangover.
The 33-year-old singer's jetset mode de vie is a far cry from his life as an introspective suburban teenager. When he wasn't burrowed in his bedroom–cum–recording studio, he recalls, he was ambling down to the woods, armed with a bottle of vodka and a pocketful of LSD.
"I'd read that John Lennon and Syd Barrett [of Pink Floyd] had taken it, and so I thought, maybe that's my path," he recalls, adding wryly of his hometown, Enghien-les-Bains, "It has a very nice lake, and a casino."
But it's another rite of passage—first fumbles with love—that partly informed his latest album, Sexuality, out in October on the Record Makers label. Tellier's girlfriend, sultry French actress Amandine de la Richardière, provides background vocals (groans, actually) on two songs. The pair met at the Cannes Film Festival a couple of years ago. "Je rêve de Biarritz en été," Tellier quivers in the nostalgic opening track, as retro electro loops are interspersed with "Ahhhhhhs" that roll in like waves.
Describing the inspiration for the record—a smoothly melancholic, synthesized ode to bygone crooners and sensual pop—Tellier deadpans, "I imagine a Greek god making love to a woman, with a tear rolling down his cheek." Like Serge Gainsbourg before him, Tellier, with his trademark scraggly beard, lank hair and nicotine-stained teeth, seems to give the rock 'n' roll finger to conventional notions of grooming. But the six-foot-one musician, who today sports goggle-size Marni shades, also favors gentlemanly sportswear that he sources from local artisans when boating on Italy's Lago di Garda. Tellier's style caught the eye of American Apparel, which has been selling Sexuality in prerelease. According to Veilhan, who has worked with Tellier on several performance art projects, the singer is handling the transition from marginal to mainstream with aplomb. "Sébastien is strong enough to be able to keep his individuality and be very popular," Veilhan says.
Onstage Tellier cultivates a quirky persona, seducing his audience with earnest, breathy vocals and languid hand gestures. He has even been known to deliver his love songs while spread-eagle across his grand piano. For his controversial performance at the Eurovision Song Contest this past May (where Tellier represented France but sang mostly in English), he rolled out in a golf cart; his look-alike backup singers—male and female—wore bushy beards.
"I wanted to bring my recipe to the show, like a new flavor of ice cream," he says, insisting he doesn't adhere to the cliché of the brooding, morose Frenchman. Tellier drains his pastis and orders a beer. "I'm a Frenchman who wants to have fun," he says. "There are many of us."