Stealth Splurgers
Budget, Schmudget. To stock their closets during the downturn, fashion lovers have embraced all manner of sneaky tricks.
---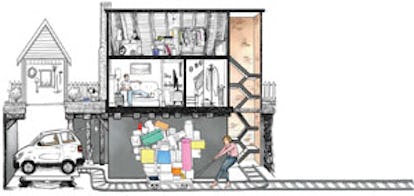 When the going gets tough, the tough go shopping—and get superwily at covering their spending tracks.
Without a doubt, the recession has fostered a crafty ingenuity among ladies seeking to quietly fill their closets with the latest loot. While there may be rumblings about the return to conspicuous consumption, most fashion splurging is still being done on the q.t. Whether they're nicking cash from the family cookie jar, splintering a single purchase across multiple credit cards or having goodies shipped rather than march through the front door with them, fashionable gals have an array of clever schemes up their sleeves.
Although she has toned it down over the past 18 months or so, designer Liz Lange, who sold her signature maternity line to investment company Bluestar Alliance in 2007, feels it's her civic duty to shop. "Of course I've cut back," she says. "But for so long I was a retailer and an entrepreneur, so I understand all too well that shopping is really the engine of our economy. So that's how I justify it."
When she's not busy justifying, Lange is cooking up subterfuge schemes left, right and center. "Shopping has been a constant issue in my marriage," she allows. "It's always been a little Lucy and Ricky with us. So I engage in this massive charade that I learned from my mother: Nothing is ever new. I run into the apartment and shove shopping bags in closets. And if my husband sees an American Express bill and gets upset, I'll say, 'I'm sending that back.'"
Equinox gym publicist Jennifer Fisherman-Ruff is another fan of the "This old thing?" strategy. But unfortunately, her spouse is completely dialed in to what she's wearing. "He notices everything," she says. "It's really annoying." To get around this dilemma, Fisherman-Ruff often stashes new items­—particularly staples like leather jackets and "many a pair of Manolos"—for six months or so before wearing them. That way, she can get through the statute of limitations on the forbidden fruit.
About a year ago, Fisherman-Ruff hit on what she thought was an ideal plan for guilt-free, albeit sneaky, wardrobe replenishment—off-loading older duds via consignment. "I'd go and sell my clothes, and then use the money to buy new stuff," she says. Understandably, her husband didn't quite get the girl logic behind why she didn't just funnel that cash back into the family coffers. "I said, 'It's free money!' If I can sell something, why can't I use that money for new clothes?"
As the business partner of jeweler Janis Provisor, Debi Wisch has been privy to all kinds of wacky buying schemes. Wisch thinks that's because, with the exception of Gail Rothwell in East Hampton, Provisor's line is sold privately and through small trunk shows rather than in stores. Evidently that extra cushion of exclusivity emboldens many a jewelry lover. How else to explain the customer who had the audacity to try to use her husband's health insurance reimbursement checks in lieu of direct payment? Another client, whose cash-conscious better half instructed her to avoid buying "anything she can't eat," opted to spread one purchase across three credit cards. Her rationale? "Maybe he'll think it's caviar."
Squirreling away a few hundred dollars here and there appears to be a key way fashion lovers get their fix in straitened times. Kirna Zabête co-owner Sarah Easley has a client who nabbed a ruffled Lanvin frock in precisely this manner. After hoarding a good chunk of its cost in cash, the woman, who describes herself as being on "double-secret shopping probation as a result of the economy," charged the balance. That way, "the credit-card bill is tiny, and I get to say, 'I got a $3,000 dress for $800. I saved money, baby!'" Deploying that technique and others, this same client calculates that she has "managed to slip $20,000 worth of Balmain, Rick Owens and Givenchy in my closet without leaving a paper trail."
Seasoned stealth shoppers know to make sure all involved parties are acting in cahoots. For instance, though it took a bit of training, Marisa Acocella Marchetto's doormen now know that they're never to hand over any packages to her husband without official clearance from the cartoonist and Cancer Vixen author herself. "They'll ask, 'Did you buy him a gift?'" Marchetto says. "And I'll say, 'No, I bought me a gift.'"
To assuage her guilt, Marchetto has been trying to frequent sales as much as possible. And she has scored a number of prized possessions at a discount, including Giuseppe Zanotti shoes. But despite her frugality, the secrecy persists. "Even though I shop at sales," she says, "I still hide the bags."
And it isn't just clothes and accessories that women covertly splash out on. Just ask "dentist to the stars" Marc Lowenberg, who recently outfitted one of his female patients with $44,000 worth of veneers. "She insisted her husband would never notice and paid for it all with a bank check," he says. When she returned a week later for her postprocedure checkup, the patient informed Lowenberg that her instincts were spot-on. "Not one word" was uttered by her spouse regarding the toothy overhaul.
In his 32 years in practice, plastic surgeon Lawrence Reed has seen more than his fair share of financial maneuvering on the part of his female clientele. Frequently it takes the form of seriously downplaying what goes on behind the doctor's door. "They'll say, 'I'm just getting a few injections.' Meanwhile, they'll get a cheek or chin implant and their eyes done," Reed says. "Very often, the husband's out of town for four or five days, and then he comes home and doesn't really notice it." Another popular trick is to slip a cosmetic procedure in with something legit, such as the removal of a precancerous mole.
Reed's stories are bountiful and, at times, a tad shocking. Consider, for instance, the one about the client who asked her hardworking husband to save for a cruise—ostensibly a trip that he, too, could enjoy—and then blew the entire kit and caboodle on tweaks to her face, breasts and other body parts. "She came in and said, 'I've got the money. He'll get over it,'" Reed recalls.
According to C.W. Park, a professor of marketing at the University of Southern California's Marshall School of Business and an expert on consumer behavior, this clandestine activity for the sake of vanity is a time-honored tradition between husbands and wives. And as long as it's not out of control, Park doesn't feel there is cause for alarm. "Women, in particular, have certain motives to make themselves more beautiful, elegant and sophisticated," he notes. "That desire isn't simply for themselves, but also for the sake of their spouse."
In other words, a power jaunt through Prada or Louis Vuitton can almost be viewed as a different type of couples therapy. "By enhancing their self-worth, women hope it can enhance their marital relationship," Park says. "And in that sense they think it's an investment. So for most secret spending, there are justifiable—or at least understandable—motives."
The professor will get no argument from Lange, who now spends a sizable chunk of her time trolling for bits and baubles to feature on Shopafrolic, her lively new shopping blog. A shared project with Lange's equally fashion-­smitten sister, Jane Wagman, the site is both a place to showcase a killer pair of Chanel boots and a way to lift the world out of the financial doldrums. "There's been so much bad news, and this is something that universally makes women happy," Lange says. "And maybe it's a way that, as a group of women, we can save the economy." One sneakily stashed shopping bag at a time.