Selena Gomez Eats a Sad Desk Salad in Her New Coach Campaign Film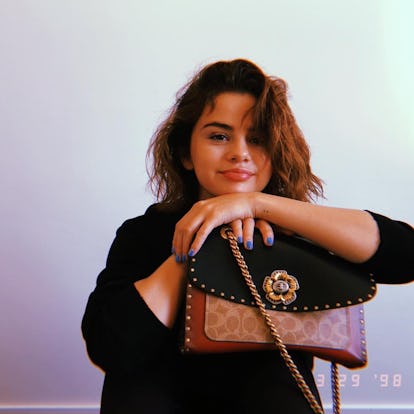 Have you ever wondered what it would look like if Selena Gomez had a regular office job? Well now we know, thanks to an irreverent short film for her new collaboration with Coach.
The clip begins with Gomez sitting at her desk, trying to navigate the daily hokum that comes with working in an office: coworkers eating one another's food without permission, a steady stream of rabbit memes flooding her inbox, and working late just to get ahead. But because this is Selena Gomez we're talking about, working late actually means throwing herself her very own office dance party.
Set to Heart's 1977 anthem "Crazy on You," the Bunny Kinney–directed video finds Gomez at her most playful, raiding the Coach clothes rack, dancing with a blow-up dinosaur, and, of course, eating Coach creative director Stuart Vevers's lunch—which looks to be the pinnacle of sad desk salads—without asking. She even teams up with the office janitor for some mayhem in the hallways. Oh, and there's a bunny, because what would an after-hours office party really be without one?
According to an official statement from Gomez, per The Cut, she had just as good a time making the film as we had watching it. "I had so much fun working on the film," she said. "And I'm thrilled to share the collection, which speaks to everything I love about Coach and also so perfectly represents who I am."
As for the collection—much of which is featured in the film—it includes slinky slip dresses, pastel bunny hoodies, and brand new handbags with Gomez's motto "Not perfect, Always me" embroidered along the front. The Selena Gomez x Coach collaboration is now available in-store and online. Watch the campaign film below.