Selena Gomez Practices Social Distancing By Dancing Alone in "Dance Again" Music Video
A portion of the proceeds from her "Dance Again" merch will go towards the MusiCares COVID-19 Relief Fund.
---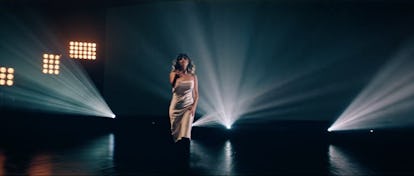 Image courtesy of Selena Gomez/YouTu
It should come as no surprise that Selena Gomez, who has a history of participating in humanitarian work, would use her star power to bring in charitable donations for coronavirus relief efforts.
The singer finally dropped a performance video for her Rare single "Dance Again," and in it, she can be seen dancing alone to her own song in a slinky dress on an empty stage.
"It feels a little strange releasing something so lighthearted in the middle of such a heavy time for our world, but I also think it's a good reminder that we will get through this together," she announced on Instagram, which is pretty much the opposite sentiment shared earlier this week by fellow pop star, Lady Gaga, who postponed her forthcoming album Chromatica, because it just "doesn't feel right" to release new dance-y music during a pandemic.
In any case, Gomez added that if you buy "Dance Again" merchandise, a portion of the proceeds will be donated to the MusiCares COVID-19 Relief Fund, which was started by the Recording Academy and aims to relieve the financial burden faced by musicians who have been negatively impacted by the coronavirus, especially those in the industry who have lost work.
Never mind that there is actually a minimal amount of dancing that occurs in the music video—at least she's practicing a safe and healthy amount of social distancing in the video, which was released in the middle of the global pandemic caused by the coronavirus.
Earlier this week, the musician shared her version of the World Health Organization's "#SafeHands challenge," in which she demonstrated how to properly cleanse her hands with soap and water for 40 seconds, making note of how to keep long fingernails clean too, and nominating Gigi Hadid, Olivia Wilde, and Cardi B to participate in the viral challenge next.
Related: Selena Gomez Has Transformed Her Distaste for Social Media Into a Beauty Line